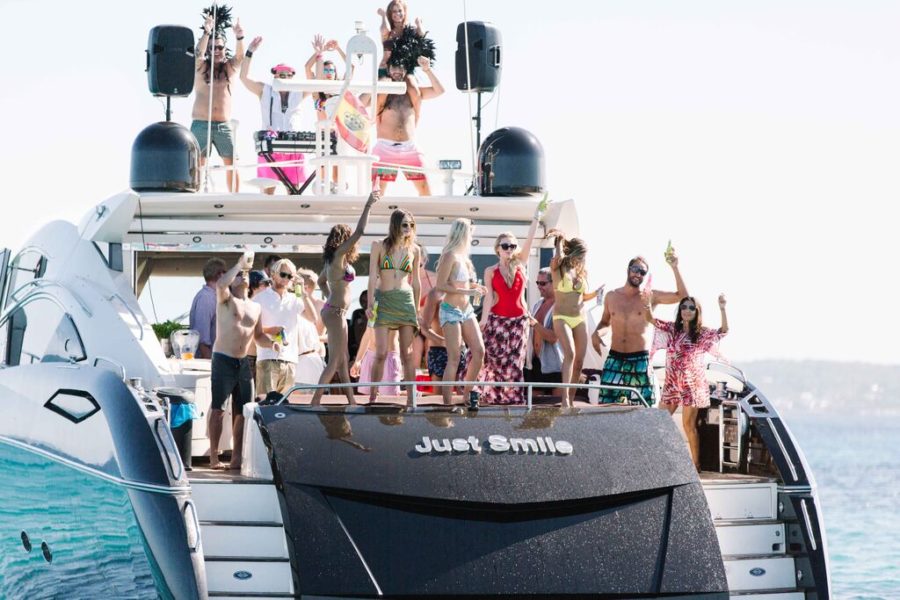 Celebrate Your Holiday in Ibiza with these 4 Adventurous Activities
The Top 4 Holiday Boat Activities in Ibiza
Ibiza is the place where opposites meet, mixing into the best vacation location Europe has to offer for lovers of bustling nights and quiet days. Its exquisite natural beauty, with the shoreline adorned by adorable sandy coves backed by pine-clad hills, is perfect for those who want to rest away from the world, while the sun turns their skin to gold. The night is for those who want to meet new people, drink and embrace a hedonistic lifestyle, even if it's only for this vacation. For those who are seeking thrills, your playground is the sea, whether you're looking to fish big game or just need an adrenaline rush. So, take your Ibiza boat rental for a spin, and turn your world upside down.
Experience a Yacht Party in Ibiza
Boat parties are one of the things Ibiza's famous for, so that's definitely a must if you're up for that. From fancy, high-class yacht parties that celebrities are throwing to a gathering of strangers who just want to enjoy life at the same time and place, there is everything for anyone. All it takes for you to enjoy is to just let go of the stress and dance the night away while sailing. And, if you're the one organizing a party – Smart Charter Ibiza has the yacht you need since it offers a choice of the best and most luxurious yachts on this exotic getaway.
Explore the Balearics
Balearics are a chain of small islands and Ibiza is the golden child of this Mediterranean family. That means there's more place for you to explore. From big islands with amazing bars and restaurants to tiny islands with wonderful beaches that are simply made for leisure and private parties, the Balearics are a great place to explore and enjoy your vacation. There is a little bit of everything and you can tailor the adventure to suit your tastes. So, take your Ibiza boat rental for a cruise among the islands, enjoy the lush greenery on the shores, threading through the azure waters of the Mediterranean.
Relax in the Open Sea
Holidays in Ibiza doesn't need to be full of socializing – you can, and should, use your days for leisure if you feel like it. Use your Ibiza boat rental to find the perfect place to jump into the water and swim your worries away. Or you can just sail to the open sea to enjoy the fresh air and the sound of waves, far away from the hustle and bustle of the city. Your boat is your kingdom and you decide what you shall do there. If you want to lay down and sunbathe all day while enjoying a good book or a movie, you can and you should!
Keep Your Adrenaline Pumping
On the other side, Ibiza has perfect activities and places for all adrenaline junkies and you can plan your summer vacation accordingly. Pick a perfect beach for surfing, or take your friends for a wakeboarding adventure of the vacation. If you prefer to be underwater, scuba diving is also a great choice whether you're a novice or an experienced underwater explorer. For the undecided, snorkeling is always a fun option and a nice way to spend the day. Flyboards, pulling by speedboats, you name it, Ibiza has it. You just have to come and see for yourself!