6 Best Beaches in Chicago
---
Lake Michigan in Chicago, Illinois, is comprised of 26 well-maintained beaches! These beaches are open from the Friday before Labor Day to Memorial Day. Unless otherwise posted, you can swim and sunbathe while lifeguards are on duty, from 11 am to 7 pm.
Another great thing about Chicago beaches is that they are accessible to the public! Learn more about the top beaches to visit.
Are the beaches in Chicago artificial?
Yes! Most of Chicago's beaches are artificial. The city has 26 miles of shoreline, 22 being artificial.
Okay now here's what you've been waiting for — the best beaches in Chicago:
Loyola Beach
Montrose Beach
Leone Beach Park
63rd Street Beach
North Avenue Beach
Oak Beach
Explore Chicago's beaches by boat. Find Boat Rentals here!
Loyola Beach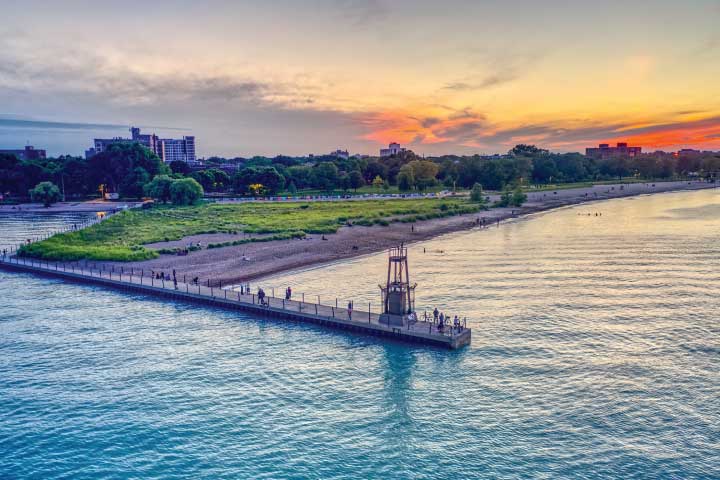 Loyola Beach is a wheelchair-accessible park and beach. It has a waterfront with sand to lounge on. It's also a popular destination for families because of the playground on the beach. Paid parking is also available for visitors. It measures more than 40 acres.
Its park has a large field house. Inside the house are a woodshop, two gymnasiums, clubrooms, and a boxing center. Loyola Beach was created in 1934 by the North Shore Park District. Citizens voted to name it Loyola Park in honor of the nearby Loyola University.
The park hosts regular summer activities. There is also a 2/3 hiking trail of Lake Michigan.
There are basketball courts as well as tennis courts. The sand has beautiful, natural dune habitats. Its lighthouse is also a crowd-pleaser. Paid parking is also available for visitors.
Montrose Beach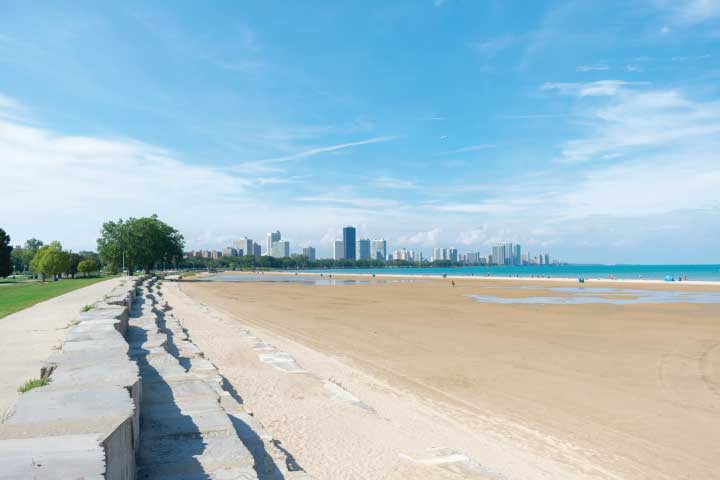 Montrose Beach is the go-to beach for kiteboarders in Chicago. The beach is also excellent for swimming, sunbathing, and picnicking. The beach is in the Uptown neighborhood of Chicago and is easily accessible by public transportation.
The water at Montrose Beach is clean and clear, making it perfect for swimming. The sand is white and soft, making it ideal for sunbathing. And the views are simply stunning. From the beach, you can see the skyline of downtown Chicago.
Leone Beach Park
The kayak launch is perfect for those who want to explore the waters of Lake Michigan. Metered parking is available for those who drive to the beach.
63rd Street Beach
63rd Street Beach is one of the most popular beaches in Chicago. It features a historic beach house with interactive fountains and restrooms with meeting rooms available to rent. There are also various options to enjoy a bite to eat, such as a Jamaican restaurant or a snack stand. Additionally, there is a non-motorized boat launch.
North Avenue Beach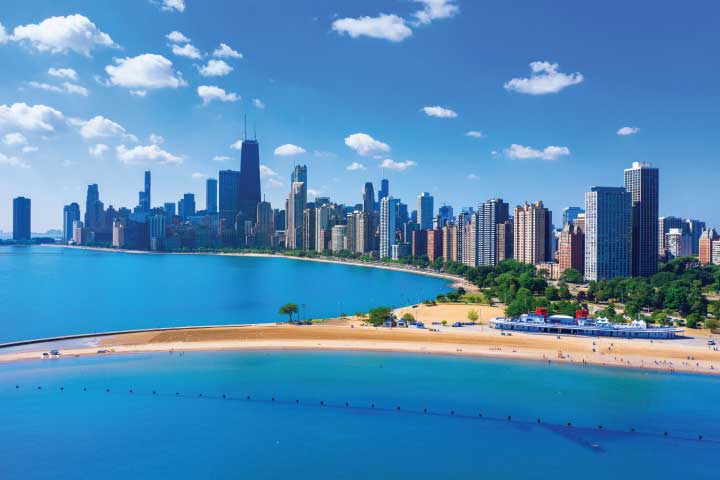 North Avenue Beach has many amenities that make it a local favorite. The beach house has 22,000 square feet of space. Also, the boardwalk is famous for visitors.
Visitors can rent bikes or lounge chairs. There are also restaurants like Castaways Bar and Grill or concession stands. There are also rentable volleyball courts and yoga classes.
Explore Chicago's beaches by boat. Find Boat Rentals here!
Oak Street Beach
Oak Street Beach allows distance swimming. It also is home to volleyball tournaments. There are several restaurants nearby, including the Oak Street Beachstro. It has bicycle paths, a stone sidewalk, and a pathway to the Lakefront Trail.
Can you swim on Chicago beaches?
Yes, you can get into the waters and swim! Chicago beaches are tested regularly for bacteria levels (results are posted online). The city's beaches are some of the most popular in the Midwest. They draw visitors from all over the region, especially during the summer months.
Don't let your boat sit idly by. List it with us to earn $20K on avg.