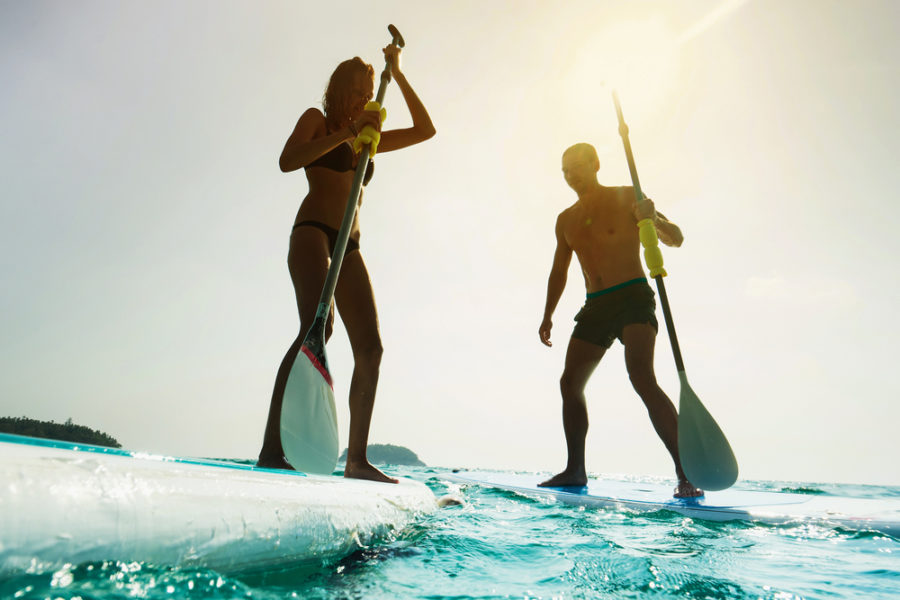 The Best Boating Accessories for 2020
Enjoy Boating Accessories on your Summer Boating Adventures
If you are considering a Boatsetter boat rental, remember that the right boating accessories can open up a whole new world of fun on the water. One amazing boating accessory is an inflatable paddle board. Inflatable SUPs (stand up paddle boards) are portable, durable, and affordable. Here are five of the best inflatable paddle boards currently on the market.
iRocker
Great for beginners, the iRocker model provides additional stability because it has a really wide tail fin. It also has a wide deck so you can use it for yoga or fishing. It is lightweight and easily portable, but be aware that you do need to inflate this model manually. It is also currently only available in one color.
Atoll
The Atoll is durable and rugged and it feels really sturdy. It is easy to maneuver and it provides excellent stability, even when you are out in rough waters. The Atoll is quite large and heavy, but this can be a good thing, depending on what you are looking for. These days, you can rent all kinds of boats quite easily from Boatsetter, so if you are considering bringing an Atoll onboard, make sure that you get a boat that is big enough!
Isle Surf and SUP
This trusted brand is also durable and sturdy but it is a lot lighter. This would be a good intermediate choice between the iRocker and the Atoll. Make sure you do the research and consider the type of boating conditions you will probably be facing before you set out on your Boatsetter boat rental.
Pathfinder
Another great option is the Pathfinder, which offers quality and versatility. It is very light and portable but it is also surprisingly stable on the water. The pump and paddles that come with the Pathfinder are fairly small and flimsy, but keep in mind that this is the most affordable option for budget-conscious boaters.
Tower
The final board we will look at is the Tower, a really tough, durable, and stable model. You can easily fit two or more people on one of these, so again, just keep in mind the kind of boat you intend to rent. The Tower offers a large single bottom fin, which helps improve overall speed, handling, and steering. This makes the Tower extremely maneuverable, as well as very easy to use for people of all skill levels. This, in turn, reduces the likelihood of accidents or injuries, so you can enjoy peace of mind on the water.
Boats generally come in such a wide range of makes and models, so it is extremely important that you choose boating accessories to match the style of boat you will be using. If you're trying to decide which boat might be the best option for your trip, Boatsetter can help you find boat rentals. Always remember that it is easy to make a reservation, which it is refundable up to 24 hours before your date of departure.
Last Updated: August 20, 2019