Savannah, GA Boating Guide: Everything You Need to Know
---
If you're planning on visiting Savannah, Georgia, you should take a day (or a month) to hit the water for some incredible fishing.
Since Savannah is right on the Atlantic Coast, you can freshwater or saltwater fish in a warm and pleasantly sunny climate. There is a balanced mix of urban and rural fishing areas, so there's something for everyone.
Explore Savannah, GA Boat Rentals
What Items are Required on a Boat in Georgia?
To keep a legal and safe vessel, you'll need the following items on your boat.
A boating safety certificate is only necessary if the driver is between 12 and 15 years old.
A boat registration certificate.
Validation decals must be displayed in a conspicuous location.
Type I, II, or III personal floatation devices (PFDs). The PFDs must be worn at all times while on personal watercraft, and all people ages 13 and under must wear them at all times, regardless of the vessel size. A type IV PFD is required for all 16 to 26 feet longboats.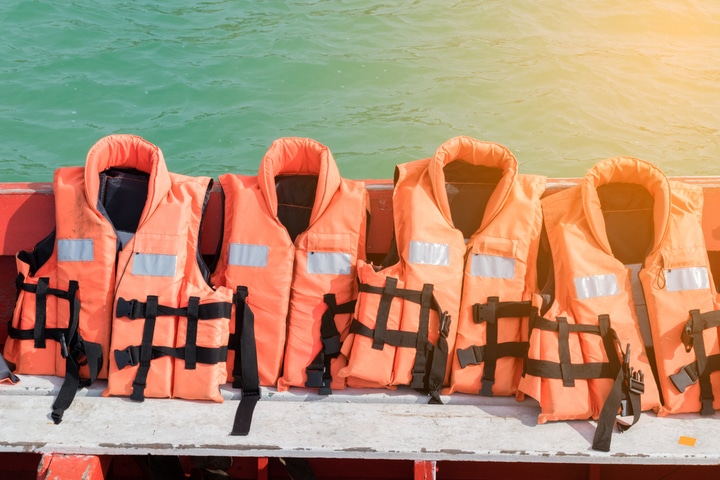 Type B-I Fire Extinguisher for all vessels.
An ignition safety switch is needed for all personal watercraft.
A backfire flame arrestor is necessary for all vessels, on inboard and stern drives only.
Ventilation systems, mufflers, and a horn, whistle, or bell. The horn, whistle, or bell is only needed while on federally controlled waters.
Daytime visual distress signals are only required in federally controlled waters.
Nighttime visual distress signals are not needed on personal watercraft because personal watercraft are not allowed to operate between sunset and sunrise. All other boats only need this if they are in federally controlled waters.
Navigation lights are not needed for personal watercraft, but all other vessels are required to have these.
It is important to note that Georgia allows alcohol in open containers on boats. The operator may also drink, provided they are 21 years old or older and their blood alcohol content is lower than .08.
Getting arrested for boating under the influence (BUI) is a misdemeanor, and is punishable with a $1,000 fine and/or twelve months in prison.
The Best Places to Fish in Savannah, GA
Savannah sits right on the Atlantic coast, next to the South Carolina border, which lends seemingly endless freshwater and saltwater fishing opportunities.
Fish in a pond or lake in the heart of Savannah, in a nearby creek or river, on the Intracoastal Waterway, from the ocean shore, or out in the ocean on your Boatsetter boat.
Pond and Lake Fishing Spots
Mohawk Lake
This small lake is just southwest of Savannah, at 1132 Mohawk St, Savannah, GA 31419. If you're looking for the perfect place to play with your children and dog and then hit the water for fishing, this is your spot.
On the north side of the lake is the Mohawk Dog Park, a place for leashed and unleashed fun. To the side of the dog park is a children's playground that offers space for running, picnicking, and large shade trees for resting.
Little Ogeechee Pond
This pond is very quiet. It is surrounded mostly by private property, and the only access is through a short hiking trail. The trailhead has lots of helpful information, so make sure you stop for a moment to read it. You can't bring a boat, but you can carry your fishing supplies in for a quiet, marshy fishing trip.
Intracoastal Waterway, River, and Creek Fishing Areas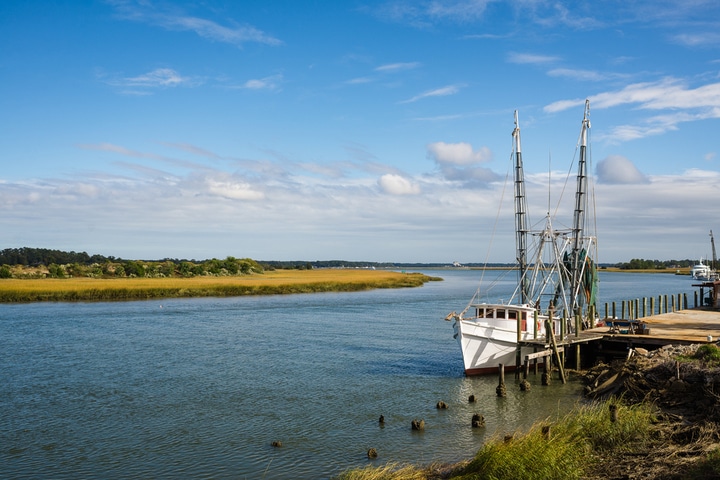 Wilmington River
The 17-mile Wilmington River cuts through the east side of Savannah and offers plenty of good fishing opportunities. One of our favorite fishing spots is on Cabbage Island, where the river meets Wassaw Sound and flows into the Atlantic Ocean.
Upstream, you'll find crappie, bowfin, bluegill, catfish, and bass. Near the ocean, you'll find King Mackeral, bluefish, and cobia. Keep your eyes peeled for sharks and porpoises, as they gather in this area.
Explore Savannah, GA Boat Rentals
Savannah River
The Savannah River starts at Lake Hartwell in northern Georgia, flows through downtown Augusta, and then downtown Savannah, where it finally leads into the Atlantic Ocean. Most of the river is used as a natural border between South Carolina and Georgia.
110 species of fish have been reported in this river. Brown Trout and Rainbow Trout are the most common sporting fish on the northern end of the river, with various bass, tarpon, and catfish becoming the most common fish as the water flows south and warms up.
Ogeechee River
This 294-mile-long river is full of fishing opportunities. It's ideal for redbreast fish and is also known for bullhead, channel, and white catfish. This is one of the few major rivers left in the area that has not been dammed up.
Alligators and water snakes are common in the Savannah area, so use caution. There are a few small designated areas just for swimming, but most of the river is open for fishing.
Romerly Marsh Creek
This creek is an inshore artificial reef, sometimes called Joes Cut, situated on the north end of Wassaw Island. It's near Skidaway Island and Wilmington Island and is the perfect place to cast for Blacktip Shark, Atlantic Stingrays, and Spotted Seatrouts. Pay attention to the tides, as this creek is right by the ocean.
Little Back River
As the Savannah River nears Savannah, it no longer becomes the natural border between Georgia and South Carolina. For a short stretch, the Little Back River becomes the new border. Most anglers come here for striper fishing. It flows through the Savannah National Wildlife Refuge and is an excellent place to see many wildlife while fishing.
Bull River
Bull River is approximately eight miles long and is a notable tidal river. This river is what created Tybee Island and Little Tybee Island/Cabbage Island, cutting this portion of land off from the mainland. Wilmington Island sits to the west of it too. Several marinas and restaurants are set up alongside the west side of the river, making this an ideal and convenient fishing place for boaters.
House Creek
If you're looking for a smaller and more remote area near the ocean, House Creek on the south end of Little Tybee Island in the Little Tybee Island / Cabbage Island Natural Area is for you. This small marshy area on the island flows into the conjunction of Bull River and Wassaw Sound at the Atlantic Ocean and offers fantastic views. You definitely need a boat, because this is a remote area without any access by land vehicle.
Tybee Creek
Tybee Creek cuts between Tybee Island and Little Tybee Island. To the south side of the river, you have Little Tybee Island in the Little Tybee Island / Cabbage Island Natural Area. To the north side of the river, it's more urban with housing, marinas, resorts, and even restaurants with docks to easily access from your boat.
Near the end of the river, there are some excellent beaches and swimming areas if you want a break from fishing.
Beach and Ocean Fishing Spots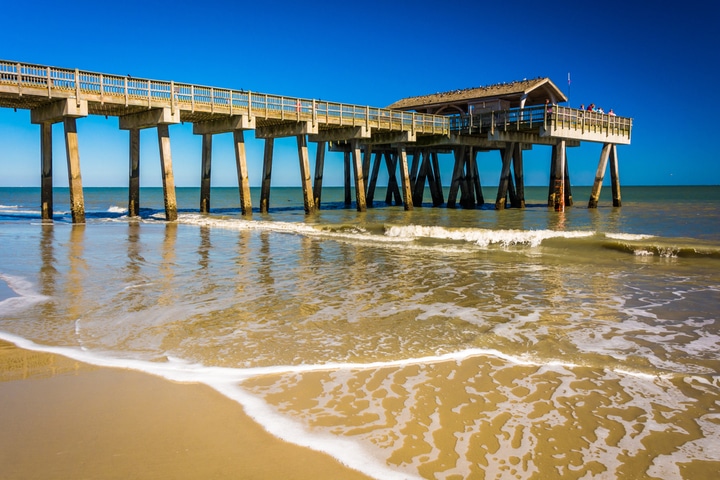 Tybee Beach on Tybee Island
Tybee Beach offers several fishing areas, including many well-maintained docks and boat launches. If you want to get out on the ocean for some shoreline or deep-sea fishing, this is your place. When you're finished, make sure you take time to explore Tybee Island and the town.
Explore Tybee Island Boat Rentals
Where is Tybee Island?
Tybee Island is 20 minutes away from downtown Savannah and just east of Wilmington Island and Whitemarsh Island. It is small, at only three square miles, but jam-packed with 25 delicious restaurants, a dozen hotels, condos, marinas, parks, museums, cottages, piers, and wide, clean, sandy beaches. While you're here, check out the 18th Century Lighthouse.
Feeling adventurous? Take the time to explore Hilton Head while you're in the area.
Ready to hit the water? You can snag your boat and a captain here, and check out our helpful boating resources here.