Catamaran vs. Monohull: Which Is Better?
---
It used to be that sailors and powerboaters (blowboaters and stinkpotters, respectively) used to hold the loudest arguments about which was better– sailboats or powerboats. Today, the debate is centered around catamarans and monohulls— how many hulls are best? Is there a best?
Let's look at what each boat offers— and continue to read for all Pro Boatsetter Tips.
The benefits of catamarans
Spacious for large crews
Easier on your body
Shallow drafts
Safety system in case of emergencies
Pro Boatsetter Tip: Did you know catamarans have seen a great surge in popularity over the last decade?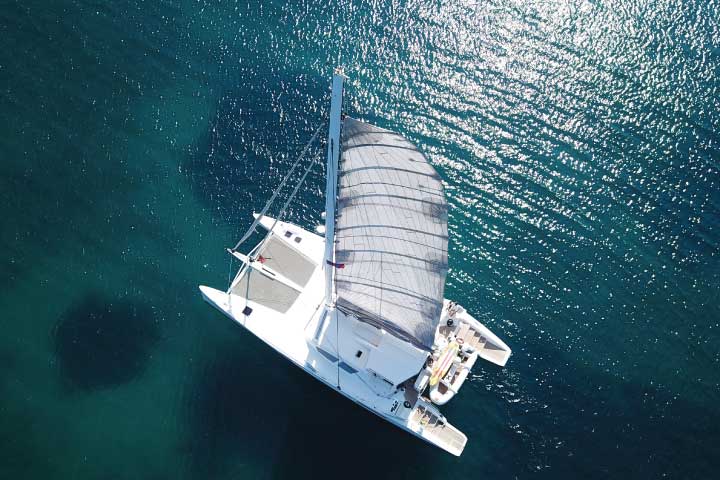 Spacious for large crews
If you've got a large crew or plan on throwing parties aboard, you'll probably benefit from the catamaran's (also known as "cats") roominess. Cats offer separation on deck with the aft cockpit, forward lounge or trampoline, and maybe even a flybridge.
Inside, cats have cabins and multiple heads for convenience. A cat of a given length (let's say 40 feet) has 1.25 x the space of the same length monohull. In other words, it feels the same as a 50-foot monohull. It's also usually laid out in a more user-friendly manner.
Easier on your body
Cats have two hulls, making walking easier for kids, older folks, and pets! Because of its steadiness, you and your crew are less likely to be fatigued by the end of your boat trip. Maybe stay out longer to catch more fish.
Best of all, you're less likely to feel seasickness because they don't feel "on their ear" even when sailing in high winds and rough conditions. Not to mention, they're much easier to sleep on.
Shallow drafts
Most sailing catamarans have a shallow draft perfect for skinny water cruising like the Chesapeake Bay and Florida. They can venture into areas previously off-limits to deep-draft monohull sailboats.
Safety system in case of emergencies
Most cats have double the systems, including bilge pumps, freshwater pumps, showers, heads, engines, etc. This means if one system fails, you've got a backup!
Twin screws also offer easier docking and increased maneuverability. It's much easier to drive a large sailing cat than a single-engine monohull, especially in a cross-breeze and when docking, backing, or maneuvering in tight quarters.
The benefits of monohulls
Performance
Easy cruising
Familiarity
Availability & expense
Pro Boat Type Tip: Operating a monohull can be challenging! If this is your first time sailing on a monohull, make sure to rent with one of our pro captains.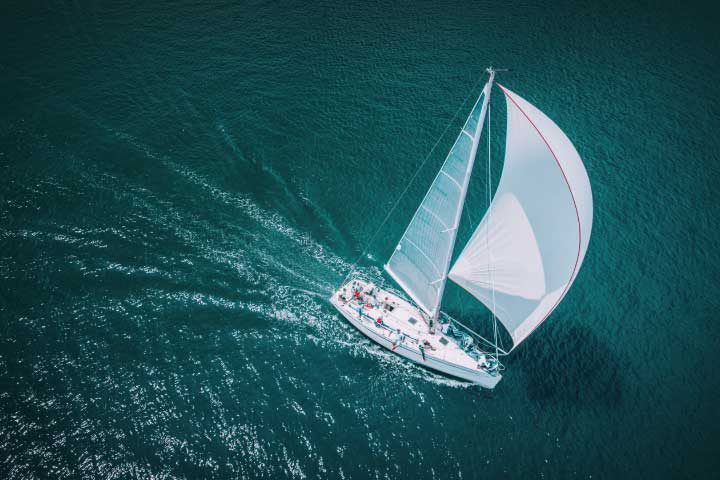 Competitive performer
If you want to win a sailboat race, use a monohull. This boat's design makes it a favorable contender even when weather conditions are working against you.
Let's add a caveat here for cruising under power– cats tend to be more fuel efficient because they're lighter and they're not dragging a heavy keel through the water.
Easier motion
Monohull sailboats have their own groove. This motion is predictable and distinguishable by pro sailors. Cats, on the other hand, depend on the body of water's condition state. Also, cats pound when going upwind into big seas if their bridge deck is pummeled by waves, while monohulls tend to slice through the waves.
Familiar handling
Monohulls have been around for centuries, and chances are that you learned to sail or powerboat on one, so their handling is more familiar. A cat's dimensions may seem intimidating at first, especially if you are short-handed.
Availability & cost
Monohulls are more available, especially for rent. There are simply more of them. They're also usually less expensive to rent and less expensive to moor in a marina.
The good news about catamarans and monohulls
There's no right or wrong choice. It all depends on your budget but, above all, your boating lifestyle. So the better question is: what will you use your sailboat to do?
Party at hidden coves with your crew. Take the kids out for a fun sailing excursion. Sunset cruises with your partner. Enter a regatta; win! Rent it out for an extra income.
Learn more about boating types, gear, and fun water toys at Boating Resources.
Boatsetter is a unique boat-sharing platform that gives everyone — whether you own a boat or you're just renting — the chance to experience life on the water. You can list a boat, book a boat, or make money as a captain.
List, rent, earn — Only at Boatsetter.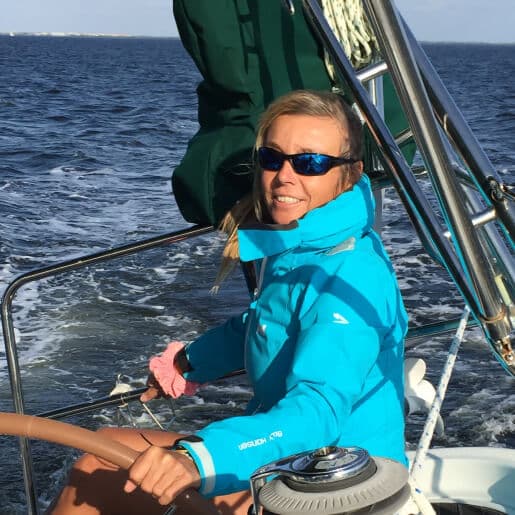 Zuzana Prochazka is an award-winning freelance journalist and photographer with regular contributions to more than a dozen sailing and powerboating magazines and online publications including Southern Boating, SEA, Latitudes & Attitudes and SAIL. She is SAIL magazines Charter Editor and the Executive Director of Boating Writers International. Zuzana serves as judge for SAIL's Best Boats awards and for Europe's Best of Boats in Berlin.
A USCG 100 Ton Master, Zuzana founded and manages a flotilla charter organization called Zescapes that takes guests adventure sailing at destinations worldwide.
Zuzana has lived in Europe, Africa and the United States and has traveled extensively in South America, the islands of the South Pacific and Mexico.