Egmont Key: Boating & Snorkeling Guide
---
Egmont Key (280 acres) is a natural island and wildlife refuge for numerous species of flora and fauna. People enjoy this island's picturesque tropical beauty and often visit it for leisure and exploration. In our Egmont Key boating guide, you'll find information and key tips for getting to Egmont Key and having a great time during your boat trip.
Rent, Charter, Share— Only at Boatsetter
Points of access by boat to Egmont Key
Egmont Key is only accessible by boat. It is also important to note that you are on a remote island meaning there are no stores, restaurants, or filtered water on land. Make sure to pack appropriately for your upcoming trip to Egmont Key.
From Tampa Bay
Point your boat to the mouth of Tampa Bay, heading southwest. You'll pass beneath Sunshine Skyway Bridge and get a great view of Terra Ceia Preserve State Park to your left and Pinellas Point on St. Petersburg. If you're at the north end of Skyway Pier, Egmont Key will be 8 to 9 o'clock, assuming that north is 12 o'clock.
You can continue to Egmont State Park or take a quick detour to pass by the southern shores of Fort De Soto Park. Fort De Soto is connected to the mainland via a bridge but has some fantastic wild sights and historical ruins to check out if your time permits. You can see part of the Fort from the water on your way to Egmont Key.
Explore available Tampa Bay Boat rentals
From St Petersburg
Follow Fort De Soto (in Ft Pete) along the shores, southwest. You'll pass by either Battery Bigelow, Gulf Fishing Pier, or Historic Fort DeSoto ruins (or a combination of these three landmarks). From the island's tip, head southwest; if north is 12 o'clock, then Egmont Key will be at 7 to 8 o'clock. It's the first island you will come across.
More specifically, you can find the ranger station at these coordinates, N 27 36. 032 W 82 45. 623 and the lighthouse at these coordinates N 27 36. 047 W 82 45. 634. We'll
cover anchoring in the next section.
Explore available St Petersburg Boat Rentals.
Boating on Tampa Bay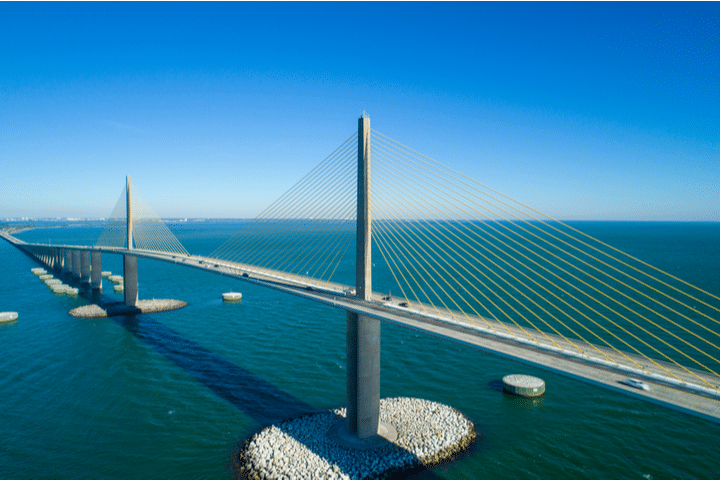 Tampa Bay covers over 400 square miles of water, and although it has an average depth of only 12 feet, it can raise a bone-pounding chop when the weather gets sour. Egmont Key is over seven miles from the Sky Way Bridge and two miles from Desoto Point, and the trip there crosses a lot of open water unless you hug the coastline to get there.
Even if you take a coastal route, the shortest passage from the coast to the northern tip of Egmont Key is two miles. The closest landmass is Passage Key. Further, to the south, by another mile, is Anna Maria Island.
Things to do at Egmont Key
Landside, there are paved trails that make trekking the island parklike, and it is. Part of the interest in Egmont Key is its history, and it has been home to fortresses to guard the pass into Tampa Bay for hundreds of years.
Visit the historical lighthouse & monuments
This island has a history. Cargo ships anchored here in the late 1700s through the mid-1800s on their way into Tampa Bay, many unintentionally, thanks to the hidden sandbars surrounding Egmont Key. Then in the 1830s, a lighthouse was constructed to help these ships; it was later reconstructed in 1858 to withstand hurricanes. You can visit this historic lighthouse on-site or by boat!
Offshore of the southwestern end of Egmont Key are the ruins of The Battery Burchstead. Unfortunately, these ruins are only accessible by water because the battery is no longer connected to the island. Time, tide, wind, and waves washed away its foundations, and it slowly slid to the west.
The guns were removed from Battery Burchstead and Battery Page before they washed into the Gulf and were placed at Desoto Point. When diving on any of the ruins surrounding Egmont Key, you won't see the guns on the batteries. However, the guns that protected Tampa Bay from marauders have been preserved. You can see them at Desoto Point along with the ruins of Fort Desoto, another local landmark.
Shelling on the island is permitted, but you can only take dead shells with you. It is prohibited to take live mollusks, of any kind, from land or sea around Egmont Key.
Snorkeling
Egmont Key features some of the most beautiful and pristine ocean water and white sands that you could find in North America. The sand is white and sugar soft, though scattered with some shells; the water is turquoise to emerald in hue but crystal clear and perfect for snorkeling and scuba diving. Your visibility will be excellent, allowing you to see the amazing marine life that lives beneath the surface.
The water is relatively calm and shallow. Down under, you will see coral reefs and several species of crabs, tropical fish, manta rays, octopus, sand dollars, starfish, sea horses, and plenty of birds overhead.
Your chances of seeing dolphins and manatees are looking pretty good!
Pro Tip: Whether you're underwater or walking on the beach, look for shark teeth and interesting sea shells to bring home with you as a reminder of your amazing boat day at Egmont Key.
Can you fish at Egmont Key?
The fishing at Egmont Key is excellent; however, there are areas around the island where fishing is prohibited. These areas protect the sea turtles that lay their eggs here, colonial seabirds, shorebirds, and other marine animals.
Anglers who fish here catch snook, seatrout, flounder, grouper, and tarpon. Be aware that sharks also share these waters, and some anglers catch them, too.
There are designated wildlife areas around Egmont Key that are annual and seasonal. If you are going to fish at Egmont Key or in the Tampa Bay area, be sure to follow all state regulations. In addition, you may need to purchase a saltwater fishing license if you plan to fish at Egmont Key.
Is your trip to Egmont Key a cruise or fishing trip?
Egmont Key is as much in the Gulf of Mexico as it is in Tampa Bay, and going to Egmont Key requires a large boat to take the waves that roll in off the Gulf. Your boat also needs to be large enough to deal with the rolling waves produced by the ship traffic that plies between Desoto Point and Egmont Key.
You will see little boats making the trek, as well as jet skis, because there are adventurers everywhere. However, the Gulf and Tampa Bay moods can change rapidly, and a larger boat will ensure a safe, more comfortable trip for you and your crew, good weather or bad.
Whether you live in the Tampa Bay area or are visiting from elsewhere, a private boat rental is the best way to spend a day at Egmont Key. A local boat owner has the perfect boat for you and your crew to get on the water. Bareboat or captained, a rental boat is the best way to see Tampa Bay and Egmont Key.
Is there coral reef at Egmont Key?
The only coral reef formations known in the Gulf of Mexico are near Texas and off the Yucatan Peninsula. Unfortunately, there are no others in the Gulf and none off the coast of Egmont Key.
There are coral reefs in Florida; however, they start off the coast of Jupiter Beach and follow the coastline in patches to the Dry Tortugas. However, there are grass beds around the island where snorkelers can watch large and small fish, stingrays, and other wonders of the undersea world.
Boating in the Tampa Bay area
Those of us who make our homes here consider the Tampa Bay area to include Saint Petersburg, Palmetto, and Bradenton in its scope. Tampa bay connects all of these cities, and with a boat, you have easy access to many different activities.
With a boat rental, you will have access to every corner of Tampa Bay, the Hillsborough River, Manatee River, Sarasota Bay, and, of course, the Gulf of Mexico. That's a lot of waterways. A rental from Boatsetter will get you and your crew to any or all of these locations.
Want to read more about Egmont Key adventures?