Fishing in Galveston, Texas Guide
---
Whether you want to fish the bays or the open waters of the Gulf of Mexico, Galveston, Texas is the place to be.
Whether you love fly fishing, deep sea fishing, or anything in-between, fishing in Galveston, Texas is about as good as it gets. You can probe the numerous bays and look for redfish and flounder, or run into the Gulf and catch some kingfish — all in the very same day.
Oh, and did we mention that fishing here is utterly awesome year-round? Or, that there are plenty of charters available for Galveston fishing trips?
Explore All Available Fishing Boat Rentals in Galveston, TX
Where to Fish: Best Galveston Fishing Spots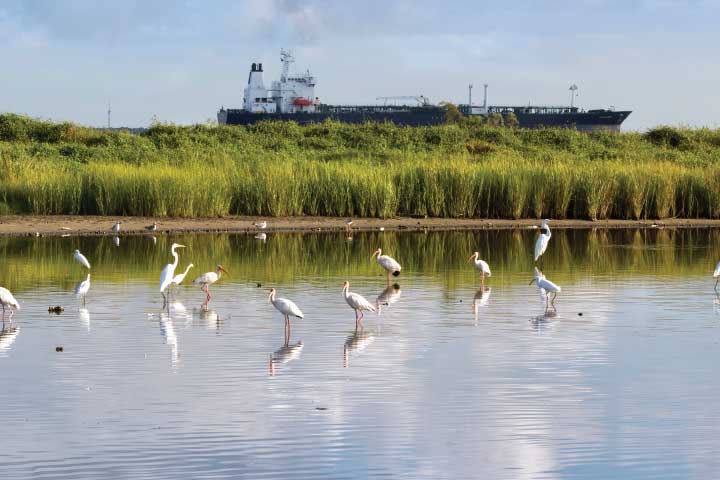 It's best to look at Galveston as two distinct different fisheries consisting of bay and Gulf, even though the bays and the Gulf meet right at Galveston Island.
The Bay
The bays have marshy banks, shallow flats, reefs, and channels that can all attract fish, and there are a number of bays to choose from including Galveston Bay, East Bay, West Bay, and Trinity Bay.
Plenty of people fish here, and as a result, there are some areas that are well known when one starts asking where to fish in Galveston.
In East Bay, Hanna's Reef and Deep Reef are known for holding speckled trout much of the year.
The edges and shoals of Goat Island and the bayside edges off Bolivar Peninsula are known for good redfish fishing.
And in Trinity Bay, the oil rigs offer up fish-attracting structure. It should also be noted that Galveston is known for its excellent flounder fishing, and any of the channel edges winding through each of these bays can produce chunky flatfish that will make any Galveston fishing trip a success.
The Gulf
Where the bays empty out in the Gulf is another place often probed by ambitious anglers, because Galveston is protected by one of the largest jetty systems on the Gulf. Those jetty rocks are crawling with critters and fish flock in to feed on them each and every day.
Pass through those jetties and enter the Gulf, and you'll want to point the bow of your boat for one of the many reef, wreck, or oil rig sites.
If you're starting from ground zero, the best way to choose a spot to fish out here is to go to the Texas Parks & Wildlife Artificial Reefs interactive map, which details GPS coordinates, water depth, and distance from Galveston for the different hotspots.
Book a Galveston Fishing Charter
What to Fish for in Galveston: Top Species List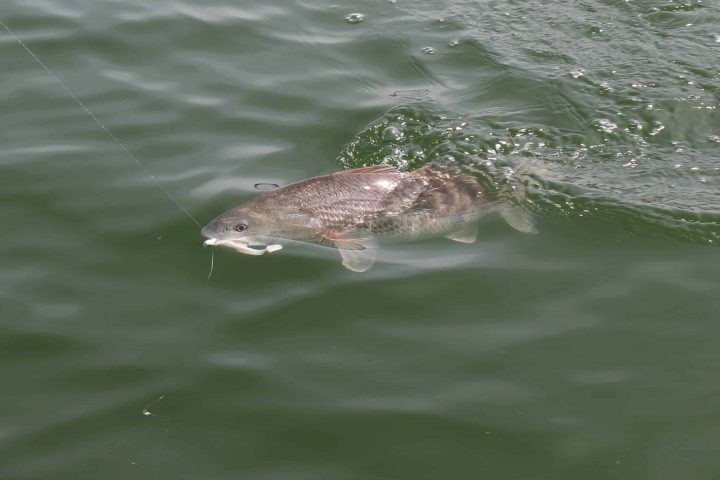 When fishing in Galveston's bays you're likely to encounter:
Drum (red and black)
Flounder
Sharks (multiple species)
Sheepshead
Speckled sea trout
Whiting
Out in the Gulf, common catches include:
Amberjack
Cobia (also called ling)
Bluefish
Grouper
King mackerel
Mahi-mahi
Sharks (many different species)
Sheepshead
Snapper (multiple species, but red snapper are the king)
Spanish mackerel
Tarpon
Tripletail
What is the best time to go fishing in Galveston, Texas?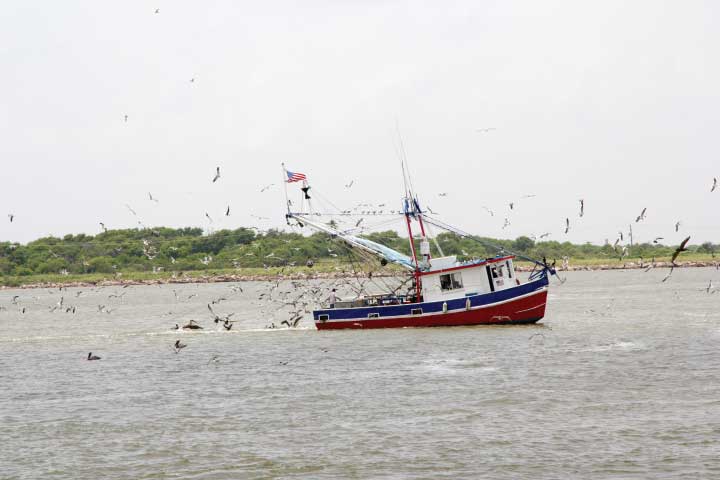 In the bays around Galveston, many species offer a year-round fishery.
Red drum and speckled trout in particular can be caught at just about any time, though spring and fall are the best seasons.
As the water warms up and summer hits, flounder and black drum show up in ever-increasing numbers and sharks also become a possibility.
The fishing opportunities in the Gulf also revolve around the seasons but note that with some popular species like red snapper, you often can't keep the fish even though they may be biting well due to legalities if you're fishing in federally-regulated waters. Whenever and wherever you may choose to fish here, always be sure to check the current regulations.
That said, many of the species caught in the Gulf are migratory so the catch in summer will be quite different from the catch in winter.
Cobia, for example, often arrive in early spring and may stick around through early fall.
Kingfish may be caught any time but are generally a fish caught during the summer months, while sheepshead offer up a great bite during the winter and spring.
Note that unpredictable weather does make winter the toughest time of year for fishing in Galveston.
Ready to go fishing in Galveston?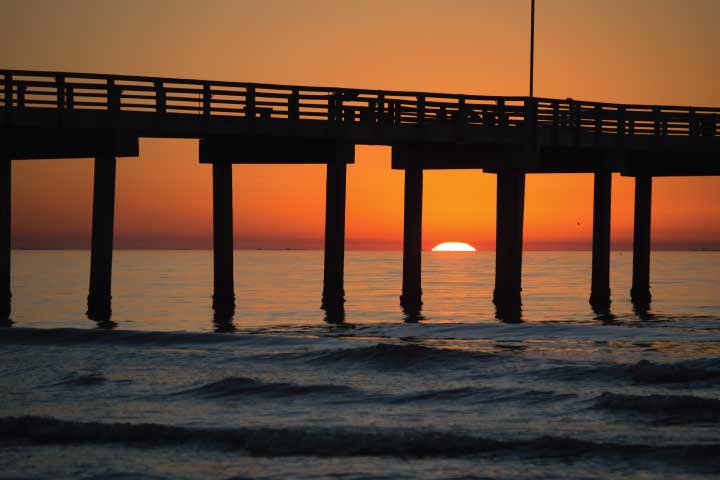 Anglers use countless methods to fish in Galveston, including both lure and bait fishing.
In the bays casting soft plastic jigs, especially scent-impregnated plastics, is very popular for species like redfish, speckled trout, and (when bounced right along the bottom) flounder.
Bait anglers will commonly opt for either shrimp, minnow, or small baitfish called finger mullet, and fish them under a cork or float.
Sometimes baits are also weighted and sent to the bottom in deeper waters, or cast out on nothing but a bare hook and "live lined."
The options are so varied that if you're unfamiliar with fishing in this territory, you might want to hire a Galveston fishing guide and learn the ropes from a pro.
In the Gulf, most anglers will drop live or cut bait down onto the reef and wreck sites. That will hook you up with species like snappers and sharks, while some other species (like sheepshead) usually bite on crustaceans.
To target the free-swimmers such as kingfish and Spanish mackerel, however, trolling is usually employed.
And in some other cases very specialized tactics are called for. When targeting cobia and tripletail, both of which tend to hide near flotsam, buoys, and other items on the surface of the water, spotting the fish and then sight-casting to them is popular.
Okay: are you ready for some Galveston, Texas fishing? We certainly hope so. Rent a fishing boat to get to those hotspots, find a fishing charter, or do whatever it takes to get out there and start casting. Because any way you cut it fishing in Galveston, Texas is tough to beat.
Browse All Available Fishing Boat Rentals in Galveston, TX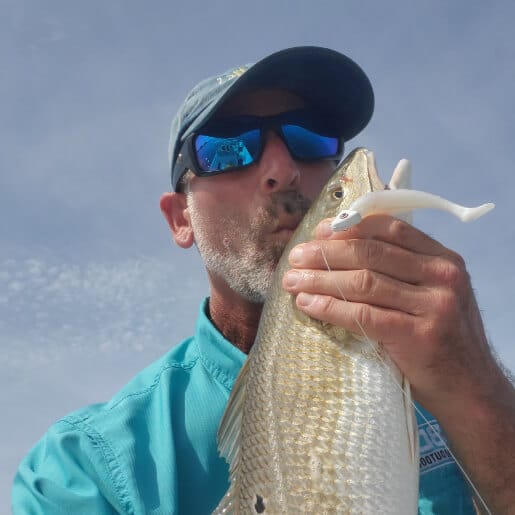 With over three decades of experience in marine journalism, Lenny Rudow has contributed to dozens of boating and fishing publications and websites ranging from BoatU.S. Magazine to BDOutdoors.com. Rudow is currently the Angler in Chief at Rudow's FishTalk, he is a past president of Boating Writers International (BWI), a graduate of the Westlawn School of Yacht Design, and has won numerous BWI and OWAA writing awards.