Los Angeles Fishing Guide
---
Los Angeles, California may be the second-largest city in America, but it's also a major-league angling hub with access points for both fresh and saltwater venues, fishing charters, and fishing boat rental opportunities. Whether you care to cast for bass or you groove on going to the offshore fishing grounds, Los Angeles fishing offers up endless opportunities.
Wherever you think you may end up fishing in Los Angeles, it's important to consider this one city as two very different fishing venues:
First off, on the freshwater scene, there are plenty of urban lakes and near the city, there are also some large reservoirs — including and especially Castaic Lake, which is known as a world-class largemouth bass fishery and holds the state's record at 21-pound, 12-ounces. So, for those who enjoy lake fishing, Los Angeles is prime territory.
Secondly, there are also deep sea fishing Los Angeles options to consider. Located right on the Pacific Ocean, Los Angeles offers boat anglers the chance to target a wide variety of species. Those who don't own a boat of their own can rent a boat, or jump on one of the many charter or party boats plying these waters.
Explore All Available Los Angeles Fishing Boat Rentals
Where to Fish: Best Los Angeles Fishing Spots
Freshwater fishing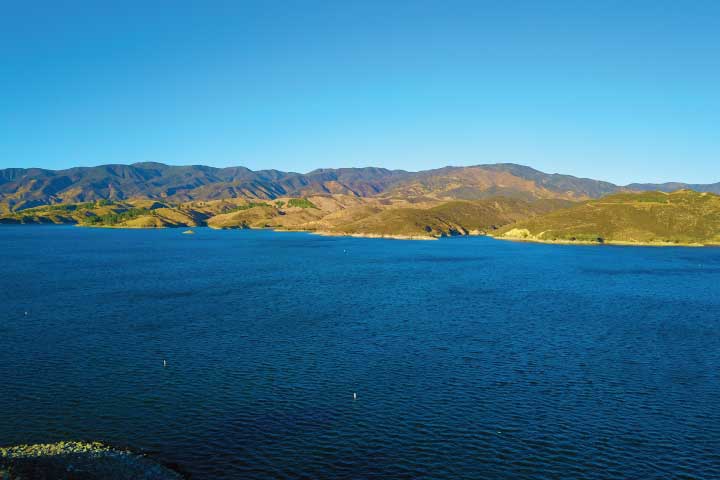 On the freshwater scene, few would argue that Castaic Lake can be beaten if you want to catch largemouth bass. The lake also has a healthy population of striped bass, smallmouth bass, catfish, stocked rainbow trout, crappie, and sunfish.
Other nearby options to the north of the city, which also have great fishing, include Pyramid Lake and Lake Piru.
On top of the larger lakes outside of town, there are many smaller reservoirs and lakes scattered throughout the city.
However, it's important to note that some don't allow fishing, and many others have fishing that's sub-par.
But there are also dozens of lakes in Los Angeles County and within the city itself which not only allow for fishing but also benefit from regular trout stockings.
A visit to the California Department of Fish and Wildlife Fish Planting Schedule can help you figure out when and where to focus your angling efforts for this specific fishery.
Deep sea fishing
Saltwater anglers have an even wider range of choices as to where to fish.
The majority of the people who saltwater fish in Los Angeles will be hunting for inshore species along the coast, either by boat or sometimes from a pier or beach.
Many, however, will head for the horizon and try some deep sea fishing, Los Angeles-style. This can require long cruises through big waters, but it can also result in spectacular catches of pelagic species.
Book a Los Angeles Fishing Charter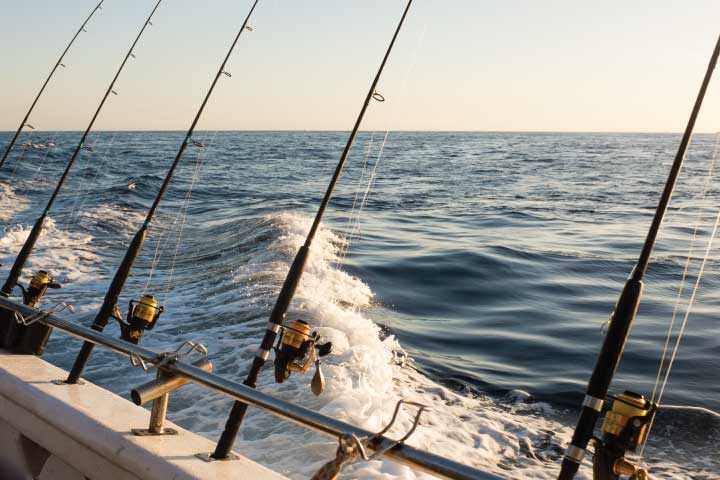 What to Fish for in Los Angeles: Top Species List
Freshwater fishing species
In freshwater, there's no doubt that largemouth bass are the number-one most popular target around. In fact, they're the number-one most sought-after freshwater fish in the nation. But along with them, lake fishing in Los Angeles can lead to catches of:
Catfish (multiple species)
Carp
Crappie
Smallmouth bass
Spotted bass
Striped bass
Sunfish
Trout (multiple species)

Saltwater fishing species
Saltwater anglers have an even wider variety of species to go after. There's a wide variation between what you'll catch from a pier versus what you might hook up miles off the coast, but most anglers fishing in the ocean will be targeting one or more of the following:
Barracuda
Calico bass
Corbina
Croaker
Halibut
Lingcod
Mahi-mahi
Rockfish
Sand Bass
Sculpin (scorpionfish)
Sharks
Sheepshead
Spotted bass
Surfperch
Tuna
White sea bass
Yellowtail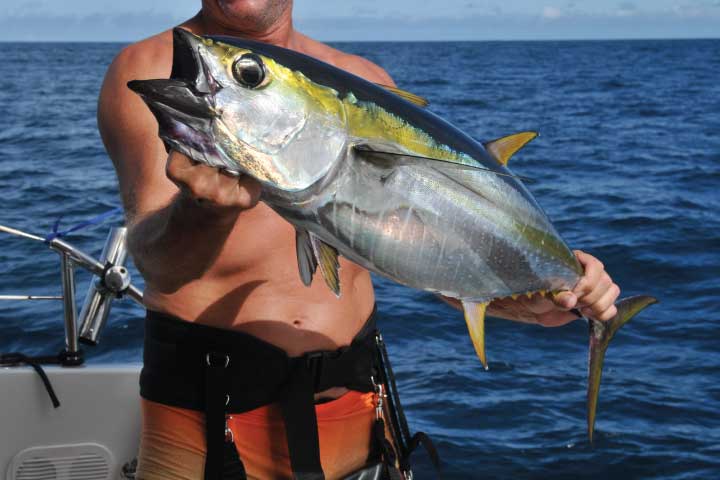 When is the best time to go fishing in Los Angeles?
For freshwater fishing in Los Angeles, spring and fall usually offer up the hottest bite, followed closely by summer.
During the winter, fishing can still be good, but the weather can be a bit more difficult if the winds pick up. Still, many anglers, trophy hunters, in particular, look forward to the winter months. Although the bites may come slower, this is also when the biggest fish of the year often get caught.
Saltwater anglers generally have the most options in spring, summer, and fall, as fish migrate up and down the coast. There are, however, some exceptions even among the migratory species.
Yellowtail, for example, become most prolific after the waters warm up and tend to disappear when they cool back down in the fall. Even in the middle of winter, however, a few stick around and you just never know when you'll encounter them.
Some other species, such as halibut, peak in the spring and become harder to find once the warmth of summer sets in.
And species like calico bass and sand bass don't migrate away, and can be caught year-round.
Still, many species will move to different depths or orient to different structure at different points in the season. So, no matter when you go fishing, when it comes to saltwater, the best fishing spots in Los Angeles will change as the seasons change.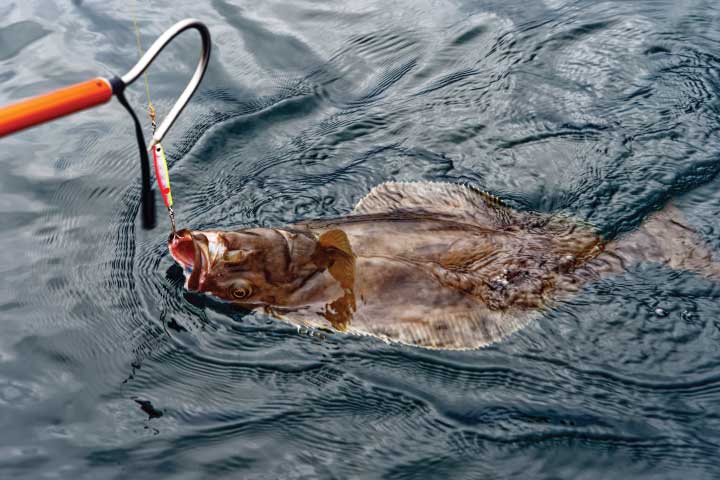 Ready to go fishing in Los Angeles?
The tactics anglers use to catch fish will vary depending on all the factors we mentioned above regarding seasonality and location, and they'll also change depending on what species you want to target and what your personal preferences are.
That said, in freshwater venues, most anglers will stick with tried-and-true bass fishing techniques:
Casting and retrieving lures, fishing plastics, and jigging.
Those going after species like catfish and trout may be more inclined to fish with bait.
Fishermen targeting the landlocked striped bass often troll plugs or spoons.
Inshore, much of the saltwater fishing is oriented around fishing with squid.
Some anglers like to cast out bait rigs, while others will use the squid to tip a jig or a metal spoon.
For some species, like barracuda, bait isn't necessary, and simply casting and retrieving a spoon is all it takes to get fish on the line.
At the opposite end of the spectrum, shark anglers usually employ chumming and always have plenty of bait on hand.
But the offshore fishery is a completely different story.
Trolling becomes an important tactic, particularly for locating species like tuna and mahi-mahi.
Once they're found, live baiting can be very effective, and some anglers will employ hyper-specific tactics, like kite fishing, to fool the fish into biting.
Yes, we know this is a lot to digest. Truth be told, there are so many different forms of fishing in Los Angeles, and so many different types of environments and species, that one could easily write an entire book just on fishing just in this one place.
But hopefully, this guide has given you a starting point or two, which you can pursue depending on what type of fish and just what type of fishing appeals to you, personally. And hopefully, there will be a bend in your rod before you know it.
After a long day of fishing be sure to check out these popular Los Angeles restaurants on the water.
Browse All Available Fishing Boat Rentals near Los Angeles, CA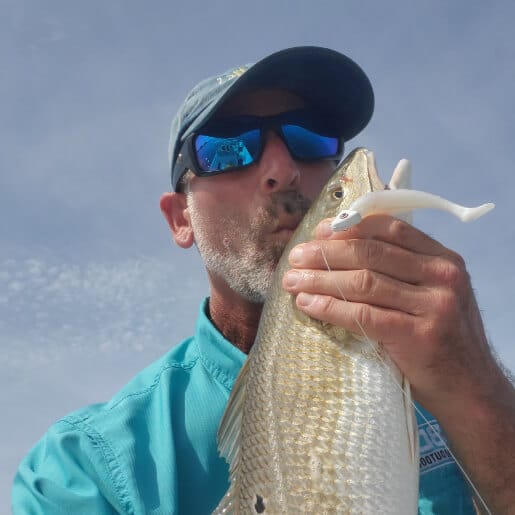 With over three decades of experience in marine journalism, Lenny Rudow has contributed to dozens of boating and fishing publications and websites ranging from BoatU.S. Magazine to BDOutdoors.com. Rudow is currently the Angler in Chief at Rudow's FishTalk, he is a past president of Boating Writers International (BWI), a graduate of the Westlawn School of Yacht Design, and has won numerous BWI and OWAA writing awards.