4 Hernando Beach, FL Marinas
---
Calm waters and narrow canals have made Hernando Beach one of Florida's signature boating communities. Everywhere you turn, every street you idle down, is right by the water. So, you might as well do your Hernando Beach visit right by getting out on the water in a boat rental. Here's a quick guide to 4 marinas in Hernando Beach to dock your rental:
Blue Pelican Marina
Hernando Beach Marina
Nature Coast Marina
Sterling Marina
TOP 10 Hernando Beach Boat Rentals— Book today!
1. Blue Pelican Marina
Blue Pelican Marina is a great place in Hernando Beach for boaters searching for a spot to drop into the water or who need a long-term place to store their vessel. Locals love the close-knit staff because they provide thoughtful, un-rushed attention and are always willing to try their best to help with every need – even if it's a service they don't normally provide.
While four wet slips don't leave too much room in the water, Blue Pelican Marina is better known for its abundant high-and-dry storage – featuring 120 slips. Private docks are available on a first-come, first-served basis.
Address: 5000 Calienta Street, Hernando Beach, FL 34607
Slips: 4
Amenities: Forklift service, covered storage and private docks up to 30' LOA, work and wash areas, and bathrooms and showers are located in the Ship Store.
2. Hernando Beach Marina
Hernando Beach Marina is a local favorite, praised for their knowledgeable staff who go above and beyond to ensure every boat is safe and stocked for the best experience. They also offer an extensive list of boat services ranging from repairs to installations (perfect if you have an older boat that needs some extra TLC or always have the itch for updates).
You can also stop in to eat at the Hernando Beach Tropical Grille, located across the lot from the marina's storage. Their menu offers affordable American seafood. Locals love the Main Lobster Roll and the Ipswich Wholebelly Clam Basket.
Address: 4138 Shoal Line Blvd, Hernando Beach, FL 34607
Slips: 32
Amenities: Maintenance facility, bathrooms and showers, Wi-Fi, and restaurant on site. Fuel dock and floating docks up to 45' LOA.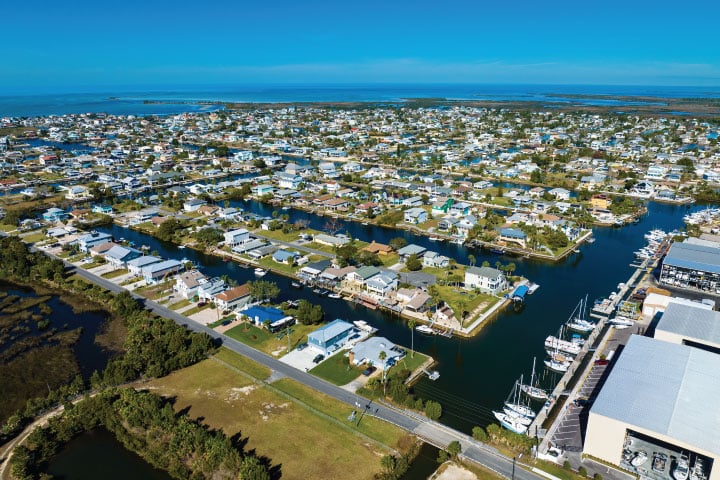 3. Nature Coast Marina
Nature Coast Marina in Hernando Beach is a prized piece of Old Florida. Locals love the staff because they're friendly, hands-on, and knowledgeable; always ready with an answer to every question about any boat. No matter your issue, Nature Coast Marina will make it their personal mission to find the best solution for you.
If you have an older boat, a new problem, or need a part, Nature Coast Marina will quickly get you back up and out on the water.
Address: 4169 Shoal Line Blvd, Hernando Beach, FL 34607
Slips: 23
Amenities: On-site showers, ship store, and bar.
4. Sterling Marina
Ask for Miss Patty when you head to Hernando Beach's favorite, Sterling Marina. She gives a warm welcome and takes her time with customers, prioritizing quality service and attention.
If you're new, take her up on a guided tour of the boatyard. She'll give you a rundown of the process of care Sterling Marina takes to treat every customer and every boat as their own. Locals value Patty's honest and fair prices and the marina's no-frills, straightforward approach.
Address: 4211 Shoal Line Blvd, Hernando Blvd, Hernando Beach, FL 34607
Slips: 35
Amenities: Marina has access to two canals, long-term storage only, and DIY boat yard.
Boatsetter is a unique boat-sharing platform that gives everyone — whether you own a boat or you're just renting — the chance to experience life on the water. You can list a boat, book a boat, or make money as a captain.
Put your boat to work. Earn an avg. of $20K yearly with Boatsetter