Lake Travis Water Activities
---
Northwest of Austin, Texas, you will find Lake Travis on the scenic Colorado River. Lake Travis sees an estimated 200,000 visitors each year. Most people visit to boat, swim, dive, and fish.
Though there are plenty of other activities surrounding the lake, in this article, we will focus on some of the best experiences you can have in and on the crystal blue waters of Lake Travis. Before visiting, be sure to read our complete boating guide, Boating on Lake Travis: Everything You Need to Know.
Explore All Available Lake Travis Boat Rentals
Is Lake Travis Good for Swimming?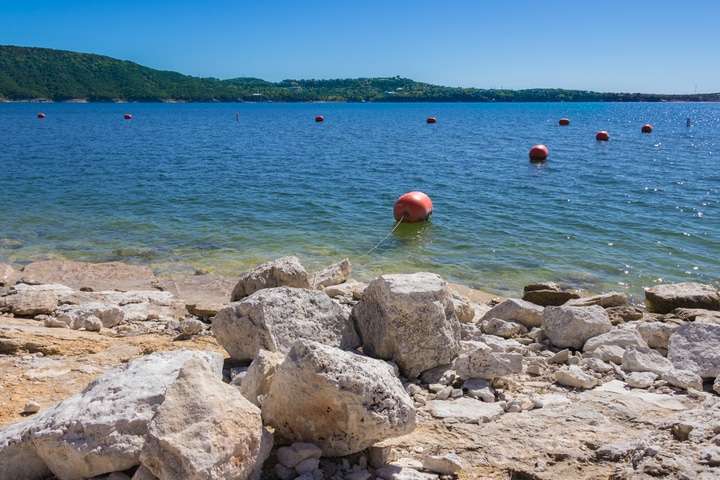 Lake Travis is ideal for swimming because there aren't any dangerous currents, the water is consistently clear and warm, there are many designated swimming beaches, and the lake is massive, so space is never an issue.
How Deep is the Water in Lake Travis?
The average depth of Lake Travis is about sixty-two feet when the lake is full, though you should note that the deepest part of the lake, near the Mansfield Dam, right between Hudson Bend and Volente Park, is 210 feet deep when full.
Deepwater is ideal for anglers and scuba divers. The average high summer temperature of the Lake Travis area is in the high 90s, and the lake water has an average high in the 80s. Because of this, divers should dress appropriately for cool water. The depths of Lake Travis are typically thirty degrees cooler than the lake's surface and thirty to fifty degrees cooler than the outside air.
If you're ready for an incredible day out on Lake Travis, it's time to search for your watercraft. With Boatsetter, you can rent various boats, including pontoons, fishing boats, catamarans, yachts, jet skis, and more!
7 Best Beaches & Parks on Lake Travis for Water Activities
1. Mudd Cove Beach
Located at Pace Bend Park on the northwest end of the lake, Mudd Cove Beach is a favorite swim spot because of the scenic rock outcroppings, grassy landings that lead into the lake, and good views. As with all other beaches on Lake Travis, bringing a pair of swim shoes is advised because the rocks and invasive zebra mussels are sharp.
Several large old-growth trees on the property are ideal for picnicking or reading beneath. Pit toilets are available, and there are several hiking trails and campsites at Pace Bend Park.
Mudd Cove Beach can be found at Mudd Cove Beach, Grisham Trail, Spicewood, TX 78669.
2. Bob Wentz Park
Bob Wentz Park can be found on the opposite side bay from the Mansfield Dam. This park gives you access to the eastern side of the lake and an excellent view of Sometimes Island.
It is a dog-friendly park and offers many recreation opportunities, including designated swim areas, picnic spots, BBQs, and a ramp for canoes, kayaks, and stand-up paddleboards. It's a windy area, so expect to see lots of parasailors.
Bob Wentz Park is well maintained and clean, attracting many visitors, especially on the weekends. This is one of the very best places on Lake Travis to catch a gorgeous sunset.
Bob Wentz Beach can be found at 7144 Comanche Trail, Austin, TX, near Comanche Village.
3. Volente Beach Resort and Waterpark
Volente is a special place on Lake Travis that many families lovingly frequent. The park is inclusive of all ages. Every ride, as well as the pools and beach, is supervised by trained lifeguards. Guards monitor the tops and bottoms of every slide too.
Volente Beach also has a restaurant and a bar, which can be accessed by driving in, walking in, or boating into the dock. The restaurant and bar are open year-round, regardless of the weather. Pets are allowed on the patio. Beachside Billy's Restaurant offers gluten-free, allergy-friendly, and vegan options.
You can rent a bungalow on site too. Houses are less than one hundred yards away from the beach and lakehouse. These rentals have been awarded the "Best of Leander" Hotels for 2018, 2019, 2020, 2021, and now 2022.
You can find Volente Beach Resort and Waterpark at 16107 FM 2769, Leander, TX 78641.
4. Hippie Hollow Park
Just to the east of Bob Wentz Park, Hippie Hollow Park is the only legally recognized clothing-optional public park in Texas. Of course, this is an adult-only park, and it is consistently patrolled by rangers to keep visitors safe.
While clothing is optional, the beach is not sandy. The rocks can be slick yet jagged, so use the utmost caution, and it may be best to wear swim shoes or at least sandals for protection.
Most visitors use the park for nude swimming or a tanline-free sunbathing zone.
You can find this one-of-a-kind nude beach at 7000 Comanche Trail, Austin, TX 78732.
Explore Lake Travis Boat Rentals
5. Lakeway City Park
Lakeway City Park can be found on the Hurst Creek Arm on the south-central side of Lake Travis. Here, you have access to trails, BBQs, picnic tables, two playgrounds, a baseball field, a dog park, and a beach. The park sits adjacent to Hurst Harbor Marina and offers attractive views of the lake.
There is good variety here, with sloping access to the water, rocky cliffs, grassy beaches, rock beaches, shade, and sunshine. Most people describe this as a hidden treasure. Many kayakers prefer this area because the cove is so calm and easy to access.
You can find this quaint park at 502 Hurst Creek Rd, Lakeway, TX.
6. Mansfield Dam Park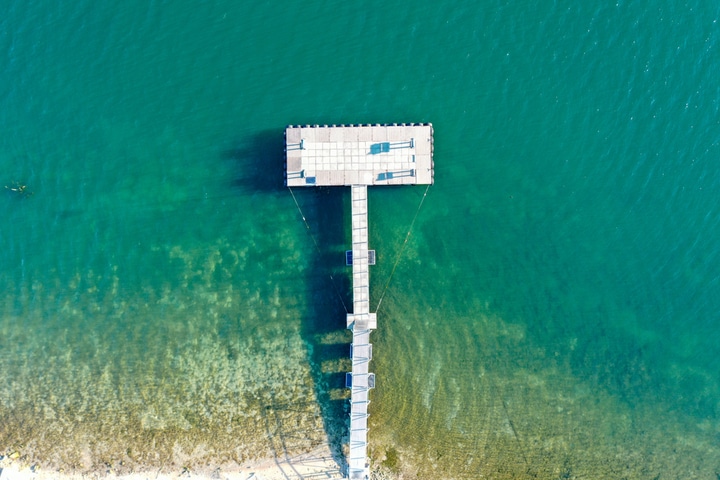 Mansfield Dam Park is at the "bottom" of the lake at Hudson Bend. The J.J. Mansfield Hydroelectric dam, completed in 1942, is why this freshwater reservoir exists. Lake Travis is the only lake in the Highland Lakes Chain designed to contain floodwaters. It protects the city of Austin from flooding and provides fresh drinking water and hydroelectric electricity to nearby residents. While the dam is adjacent to the park, it is not accessible to the public, and you should keep your distance for safety reasons.
Since the water is so deep near the dam, this is the ideal spot for scuba divers and anglers. You can also regularly see swimmers, boaters, and picnickers in the park.
There is a paved trail running throughout the park that many parents and wheelchair users appreciate.
The park is clean, has restrooms, and offers plenty of parking.
An extensive scuba diving park is on-site, and there is an underwater trail to explore and four diving platforms. You can spot sunken boats, construction materials left over from the dam's construction in the late 30s and early 40s, and other interesting pieces.
The boat ramp is the largest and most easily accessible on Lake Travis due primarily to the water depth.
Pets are allowed but must be kept on a leash at all times.
The park is located at 4380 Mansfield Park Dr, Austin, TX 78734.
Browse All Available Lake Travis Boat Rentals