6 Best Lakes Near Atlanta, GA
---
What lakes are closest to Atlanta?
Whether you live and work in Atlanta, Georgia, or you're stopping by for a vacation, there's no place like the lake—and lucky, there are plenty of lakes in the area to explore. What lakes are closet to the city? Well, answering that depends on what kind of lake you're looking for.
Some nearby lakes are best suited for larger vessels, while others are limited to smaller craft, like kayaks and canoes. Regardless, each lake is special in its own unique way and is well-deserving of a visit.
Let's take a closer look at the six best lakes near Atlanta, all with something unique to offer for boaters and anglers:
Lake Lanier
Lake Allatoona
Lake Acworth
Lake Oconee
Lake Sinclair
George H Sparks Reservoir
Explore All Atlanta, GA Boat Rentals
1. Lake Lanier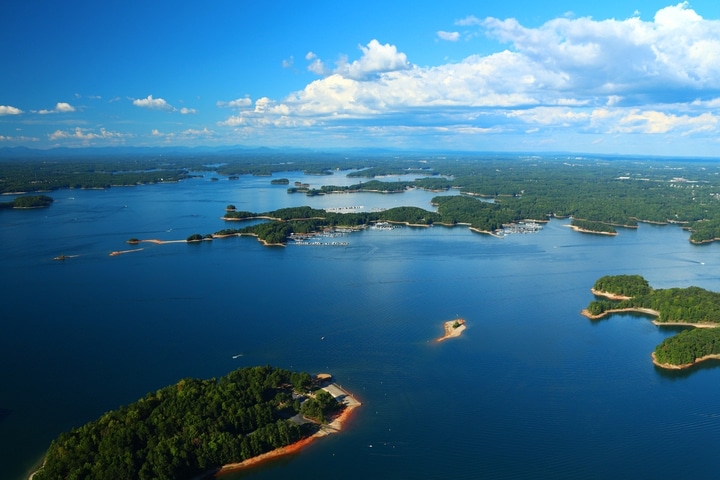 Lake Lanier is the most popular lake in Georgia, with millions of people visiting each year. It sits in the foothills of the George Blue Ridge Mountains, just forty-five minutes northeast of Atlanta.
Lake Lanier boasts 38,000 acres and almost 700 miles of shoreline. On the banks, you'll find seventy-six boat ramps, seventy-six designated recreational areas, ten full-service marinas, dozens of parks, hundreds of campsites, and many cozy sleeping accommodations, including romantic houseboats.
This massive lake offers dozens of opportunities to sightsee, fish, camp, swim, perform watersports, explore islands, or enjoy the local restaurants, shops, and nightlife. In the center of the lake, you'll find Margaritaville at Lanier Islands Waterpark in the hub of the islands. This waterpark is very boater friendly; Port of Indecision Marina is part of the park and has forty-foot long wet slips, covered slips, dry stack storage, and day docks.
Browse All Available Boat Rentals on Lake Lanier
2. Lake Allatoona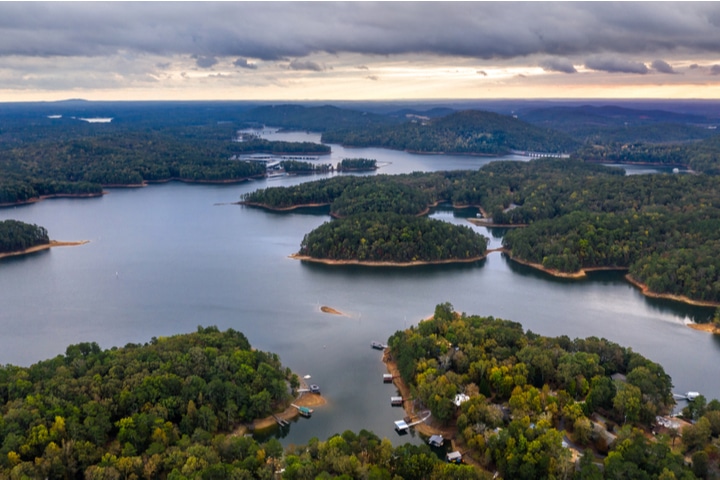 Lake Allatoona is thirty minutes northwest of Atlanta, with 12,000 acres of lake, 270 miles of shoreline, and 25,000 acres of public land surrounding the lake. Like Lake Lanier, Lake Allatoona was created by a dam designed and built by the U.S. Army Corps of Engineers. It was built upon the Etowah River, and now covers the ruins of the Etowah town, which the lake in 1949 and 1950 covered up.
I-75 and Cartersville sit to the east of the lake, while I-575 and Holly Springs sit to the west. The lake supplies many Georgians with drinking water, hydroelectric electricity, as well as a beautiful place to recreate. It also manages fish and wildlife. Lake Allatoona has twenty boat ramps, fourteen parks, eight campgrounds, and eight marinas.
You can find various bass species, channel and flathead catfish, crappie, bluegill, stripers, and several types of sunfish here. The lake reaches depths of 145 feet and has many warm, shallow, and sunny coves.
Whether you prefer to fish from a boat or the shore, Allatoona has the right geography to satisfy all anglers.
Browse All Available Lake Allatoona Boat Rentals
3. Lake Acworth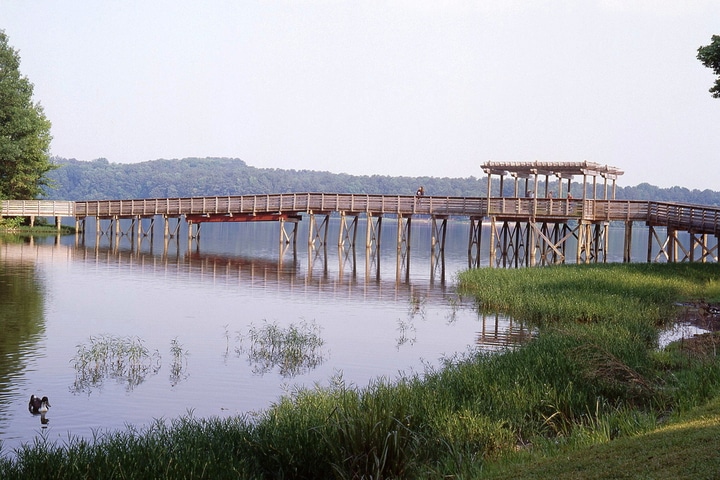 Lake Acworth almost touches Lake Allatoona but is narrowly separated by a 1,500-foot long earthen dam and Highway 92 that sits atop it. You can find this lake just south of Allatoona.
Since this lake is so small, only electric or trolling motors are allowed; gas-powered or personal watercraft are not permitted. Canoes and kayaks are allowed.
4. Lake Oconee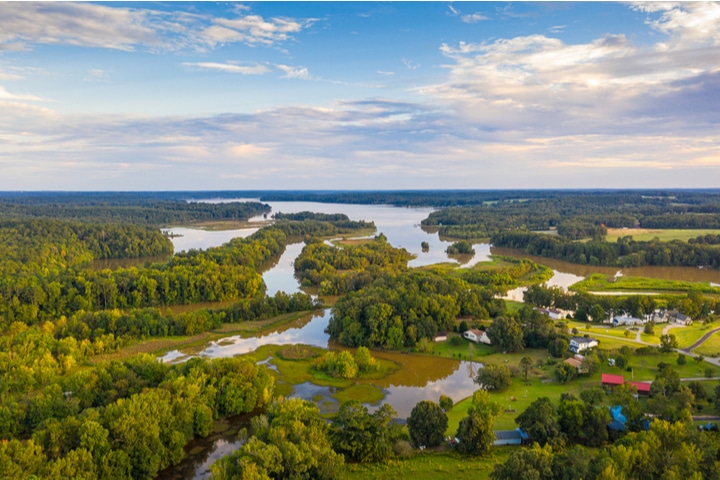 Conveniently nestled about halfway between Atlanta and Augusta, Oconee feels like a retreat close to home. It is about an hour and fifteen minutes drive from Atlanta—just east of McDonough, GA.
This beautiful lake is surrounded by gorgeous, exclusive golf communities, resorts, and senior living communities. You can also find several historic plantations on the shore. While there is a considerable amount of hustle and bustle around the lake, the lake itself is relatively quiet and peaceful. It is large like Lake Lanier, but without crowds.
It is a reservoir that was created by the Wallace Dam on the Oconee River in 1979. While the dam provides clean hydroelectric energy, the reservoir is used to supply many local families with fresh drinking water.
To the north of Lake Oconee, you'll find the Oconee National Forest and the Scull Shoals Experimental Forest.
5. Lake Sinclair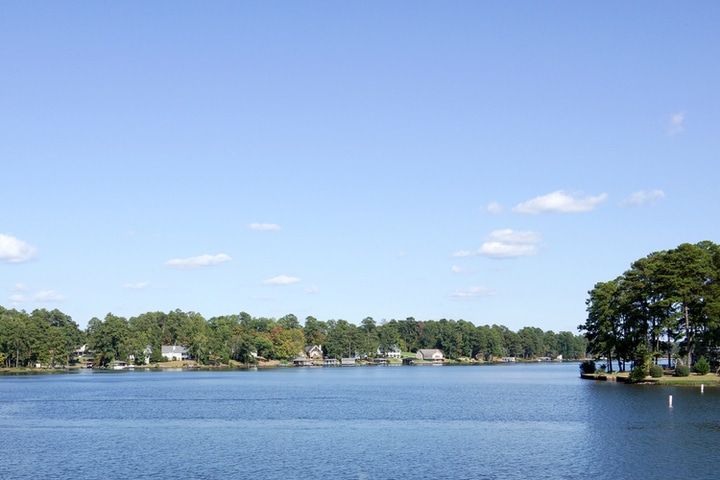 Lake Sinclair, which is almost connected to Lake Oconee, has 15,000 acres of lake to enjoy and over 500 miles of shoreline to explore. It is only separated from Oconee by the Wallace Dam.
This lake is a bit of a drive; it will take nearly an hour and a half to reach the lake from Atlanta. In our opinion, it's well worth the drive. While Lake Sinclair is relatively far north in Georgia, a few alligators are in its waters.
Antebellum Trail runs through here, so if you're ready to get your land legs back long enough to explore Lake Country's rolling hills, forests, sloping farmland, and marshlands, this is the perfect place for you.
6. George H Sparks Reservoir
This 215-acre lake is modest but nice and close to the heart of Atlanta. It only takes twenty minutes to get from the center of downtown Atlanta to the reservoir.
Sweetwater Creek runs right by the lake, and Sweetwater Creek State Park encompasses nearly its entire perimeter. The park is 2,549 acres and features ten yurts, seven picnic shelters, five tent sites, two playgrounds, two fishing docks, one group shelter, a visitor center, a museum, a gift shop, an outdoor fitness equipment area, a seasonal bait shop, and one boat ramp leading into the George H Sparks Reservoir.
The reservoir is a haven for anglers and kayakers, stand-up paddle boarders, and paddle boaters. There isn't a beach or a swimming area, but trails, historic textile mill ruins, and gorgeous forests make up for that.
Are you ready for your next water-filled adventure in or near Atlanta? With a local Boatsetter boat rental, you can explore all of what these lakes around Atlanta have to offer.
Own a Boat? Learn How to Offset the Cost of Ownership by Listing on Boatsetter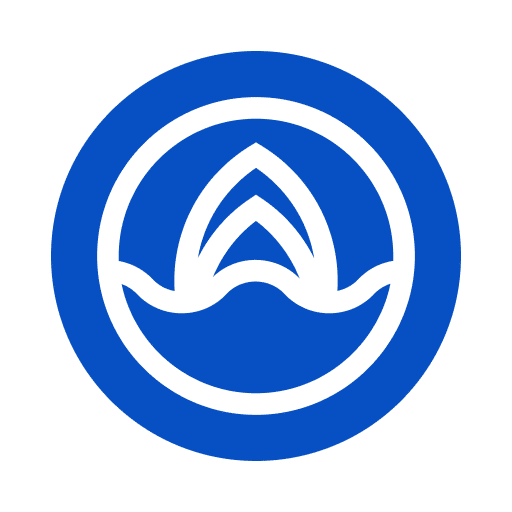 Boatsetter empowers people to explore with confidence by showing them a world of possibility on the water. Rent a boat, list your boat, or become a Boatsetter captain today.