Pontoon vs. Deck Boat: What's the Difference?
---
Many boaters choose to purchase a boat based on the water activities they want to do. If you're interested in comfortably cruising around the shoreline with some snacks, your favorite beverages, and a bunch of friends or family, then a pontoon or deck boat may be the boat for you.
But still, they're different boats. In this post, we'll give you a close look at the differences between pontoons and deck boats.
Try before you buy— Rent pontoons and deck boats at Boatsetter
What is the difference between a pontoon and a deck boat?
As the name suggests, pontoons are based on a platform of large aluminum tubes with a deck on top that supports the upper structural components, seating, and other features.
Pontoon boats are commonly found as small as 18 feet in length and as large as 28 feet. They feature a large, open deck surrounded by seating with easy access from the bow or stern and often one side of the boat where passengers can step directly onto the deck.
Although pontoons were originally built with two tubes placed at the outboard edge of the deck, modern pontoons have a third tube in the center. This allows boat builders to mount larger or twin engines, for more strength and rigidity.
The third tube and bigger engines also make these boats faster with better handling and strong enough to tow wakeboarders and skiers.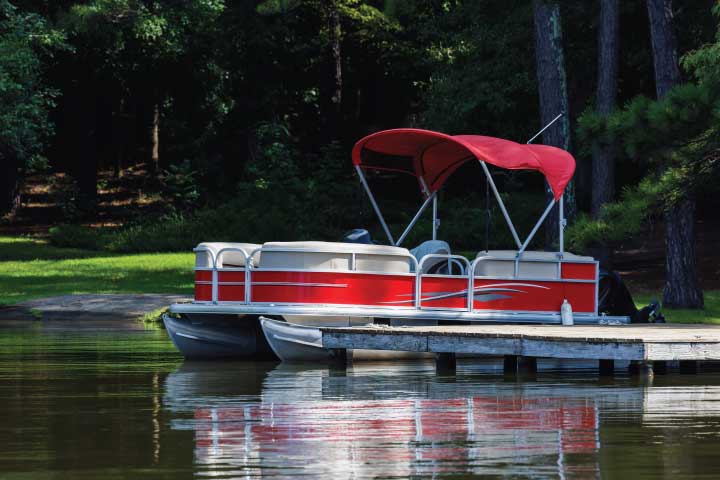 If a pontoon boat has a deck, then what is a deck boat?
Although both were built to accommodate large groups, deck boats are built on a more traditional fiberglass V-shaped hull, while pontoons are built on aluminum tubes.
While the latest pontoons have new tube designs and come close to performing comparably, a deck boat's traditional hull design still rides better in rough waters, cruises more comfortably, and handles better than a pontoon boat.
The traditional hull design also creates a better wake that meets the wants and needs of wakeboarders and skiers. They can also be equipped with trim tabs and other options designed to create a bigger, more desirable wake.
It also provides additional power options! While pontoon boats are most commonly powered by outboard engines, deck boats may be equipped with inboard/outboard, or I/O, engine packages and outboards.
Deck boats with inboard/outboard engine packages can also provide a larger, more accessible swim platform for entering and exiting the water.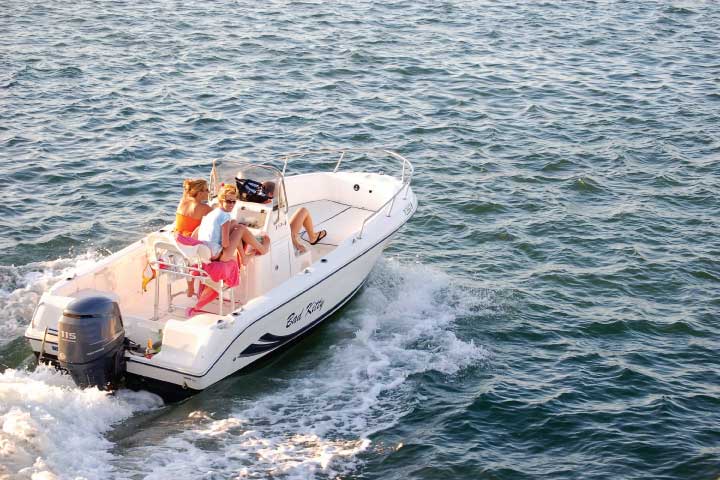 READ MORE: Buyer's Guide: Best Deck Boats
Similar in style. Different in design.
While both styles of boat can include lots of storage, coolers, audio systems, and fishing features and make either a great choice for a fun, memorable day on the water, they are very different in design.
Look up deck boats on Google Images. They're sleek and more closely resemble a runabout boat, while pontoon boats resemble, well, pontoon boats.
Check out the hottest boats in the market at Boat Types, and scroll through Boat Guides to find your next boating destination.
Boatsetter is a unique boat-sharing platform that gives everyone — whether you own a boat or you're just renting — the chance to experience life on the water. You can list a boat, book a boat, or make money as a captain.
List. Rent. Earn— Only at Boatsetter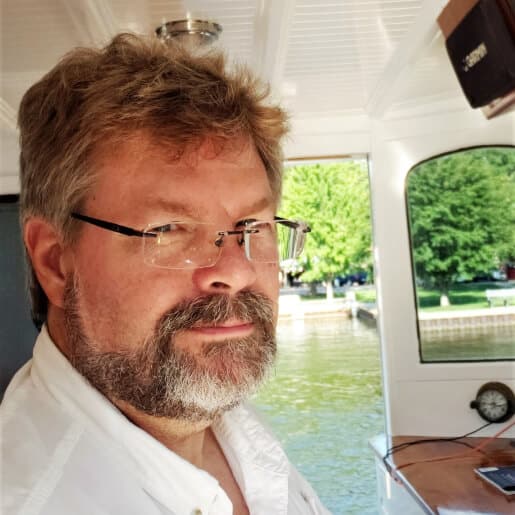 Chuck Warren fell in love with boats at 9 years old while helping to restore his grandfather's 1939 44-foot Elco cruiser. A lifelong boater, Chuck has experience operating large and small vessels on the waters of the Atlantic, Gulf of Mexico, Caribbean, and the Great Lakes.
During his 35-year marine industry career, Chuck has been the driver for several offshore powerboat racing teams, the chief engineer aboard a Caribbean research and salvage vessel, captain of a Florida Keys sunset cruise, and more.
Today, Chuck is a boating industry writer, copywriter, and captain who lives on his 40-foot boat in the summer when he isn't delivering vessels around the Great Lakes or teaching new boaters to drive. Winters are split between the West Michigan lakeshore and wherever his travels take him.