Best Affordable Bay Boat
---
Bay boats are an excellent investment for both anglers and pleasure cruisers alike. They can glide smoothly across the water quickly and are perfect for fishing in shallow waters.
However, bay boats can be quite expensive due to their specialized nature. For this article, we'll be taking a look at one of the best examples of an affordable bay boat. Additionally, we'll be showing you things you should look out for when shopping for bay boats on the cheaper side.
What is a Bay Boat?
Before we talk about a prime example of a bay boat, it's important to know exactly what they are. To put it simply, this type of boat is what you'd use if you need to get somewhere quickly while traversing through shallow water. They deliver smooth, comfortable rides, even at higher speeds, and are a great choice for those looking to enjoy a quick ride or go fishing.
They are large enough to be out on the open water but also small enough to ride comfortably in shallow water. Their size allows them to be more maneuverable than larger boats while still creating plenty of stability while in open water.
The bay boat is a very versatile machine. With their medium size, they're perfect for water sports such as skiing. While they're not intended for big parties, like pontoon boats, you can still take a few friends or members of your family out for a fun time on the water.
Despite the versatility of this boat, its true intended purpose is for fishing. If you're looking for a boat that has better recreational abilities, you should look elsewhere. There are plenty of other vessels that are dedicated to such things.
What is an Affordable Price For a Bay Boat?
The next question we need to think about is the price range for an affordable bay boat. Everyone knows that boats can get very expensive, and obviously, not everyone is looking for a top-of-the-line boat. For this article, we consider "affordable" to mean boats that are $50,000 or cheaper. With a watchful eye and plenty of research, you'll have no problem finding plenty of good deals on good-quality bay boats.
Features and Specs to Look For On Bay Boats
Because bay boats are such versatile vessels, you should watch for features that cater to your desires. Extra features on bay boats will boil down between either fishing or recreational activities.
Fishing Accessories: Bay boats are intended for fishing over other activities. All of them will have extra accessories that cater to fishing in some way or another. Below are a few examples of these accessories that can give you the edge while out fishing.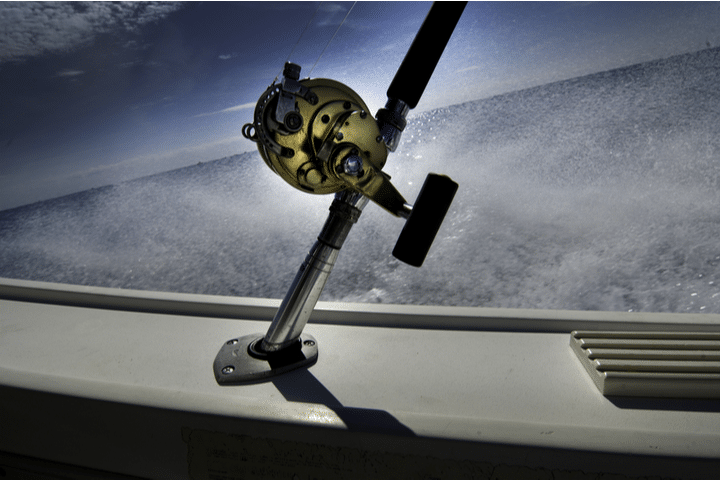 Rod Holders:

Bay boats will usually be equipped with some amount of rod holders. It's common for them to be located around the center console. There, you can stow your several rods until they're ready to use, keeping them out of the way. You can also store other necessary tools, such as nets, in these rod holders if need be. This is an accessory we'd consider necessary if you're an avid fisherman looking for bay boats.

Fishing Seats:

Another necessity for any angler is a comfortable fishing seat. These allow you to be seated and ready for when a fish takes your bait. You can, of course, stand while you fish or bring a folding chair or something similar. However, built-in fishing chairs are extremely convenient.

Trolling Motor:

For those who are unaware, a trolling motor is a smaller, electric motor. It is used to make your boat gently coast across the water without making as much noise as your main motor. This type of motor ensures that you won't scare any fish away as you pull up to your favorite fishing spot.

Livewell:

Any good fishing boat will have a livewell; bay boats are no exception. A livewell is essentially a fish tank that is on your boat. You can stow the fish you want to keep in there, and they'll stay alive until it's time to weigh them or prepare them for cooking.

Fish Finder

: A

fish finder

is more of an optional accessory when it comes to fishing. This is a sonar tool that helps detect fish under the water. It is helpful if you're going fishing in a lake or area you are unfamiliar with.
Best Affordable Bay Boat Example: Trophy Series T18 Bay
Now we'll be looking at the perfect example of one of the best affordable bay boats on the market. The boat we'll be going over is the Trophy Series T18 Bay by Bayliner.
Price: Obviously, the price of the boat is important. While many affordable bay boats can cost upwards of 40-50,000 dollars, the T18 Bay only costs $22,573.00. This can be paid in one large sum or installments of $211.83 a month.
This is probably one of the best selling points about this boat. It is extremely affordable and does not sacrifice any quality.
Length and Width: This boat is 18 feet and two inches long and 7 feet and 5 inches wide at the beam.
Capacity: This bay boat can hold six people total.
Horsepower: The T18 can have a maximum horsepower of 115.
Hull Design: Uses an M-Hull design to promote stability and improve performance.
Fuel Capacity: The tank of this boat can hold up to 33 gallons of fuel.
Fishing Accessories – This boat comes complete with the following:
Fishing seat on the bow of the boat.

Livewell on the front of the boat, near the fishing seat.

Trolling motor bracket.

A fish finder, specifically the Lowrance HOOK2 4X.
Water Sports Accessories: This bay boat can come with a few extra water sports accessories:
Up to two wakeboard racks

A folding sport arch/ski tow bar

Swim boards on either side of the boat
General Entertainment: This boat has a waterproof radio and Bluetooth capabilities, which will allow you to play your favorite boating playlist.
Convenience Options – The T18 has a surprising number of additional features that can come with it. While we won't list them all, here are some notable ones that caught our eye:
500 GPH bilge pump

Digital depth indicator

Compass

Glass dash screen with engine data display
What It's Like To Use the Trophy Series T18 by Bayliner
Now that you've seen all of the specifications of this bay boat, you may be asking yourself, "This seems like it's too good to be true for only $20,000." Thankfully, that couldn't be farther from the truth. This really is one of the best affordable bay boats on the market right now, and we'll tell you why.
First of all, this boat has a very clean and sleek design. It's aesthetically pleasing to look at and will surely impress those who see it. You may even shock people when you tell them how much you got it for. The clean white paint job with a black outline along the ship's middle adds a sense of style to the boat.
Once you've spent enough time admiring the boat from afar, you'll board it and subsequently be pleasantly surprised. For a relatively small boat, the deck is very spacious. We were really surprised by just how much space was available around the deck. You'll have plenty of space to move around either while you're finding the perfect spot to cast or just walking around.
The center console and captain's seat have a very elegant but simplistic look to them. The gauges were very easy to read, and the convenient water shield allowed for plenty of stability. The captain's chair was very comfortable to sit in. It's made from nice leather and provides enough support for long trips.
Driving this boat was an extremely pleasurable experience. It's fast and stable, providing a very smooth and quick ride. The steering wheel turns easily. It's easy to control and very responsive.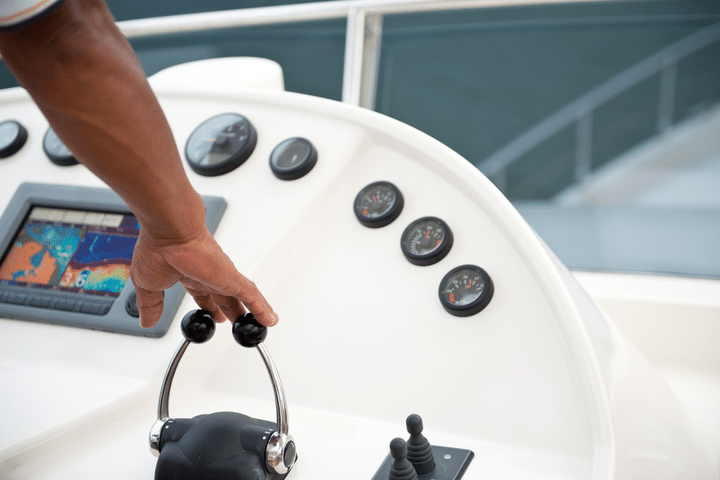 The livewell that comes with this bay boat has plenty of space for catches. It fits some pretty large fish but nothing crazy. As the boat is meant for fishing in shallow waters, the Livewell can hold fish you'd expect to see there.
Why Buy or Rent a Bay Boat?
The most attractive aspect of the bay boat is just how versatile it is, compared to other boats. The bay boat combines some of the best aspects of normal fishing boats with the recreational capabilities of pontoon or ski boats.
This type of boat is perfect for small parties looking for a more comfortable fishing experience or a quick skiing trip. If you live on a lake and hunt for a boat, this may be the perfect match for you.
If you already have a bay boat, renting it out could be a very lucrative venture. Assuming you know all of the best fishing spots or are well versed in the ways of skiing, you could easily rent out your boat. There are plenty of people out there looking for a relaxing fishing trip with their friends in unfamiliar waters or a laid-back skiing trip. If you play your cards right, you'll have plenty of people lining up to take a ride on your boat, whether it's to reel in their next trophy fish or have some fun skiing.
A bay boat is a perfect vessel from a renter's perspective if you and a small group of family or friends want to take a trip out on local waters. For instance, if you're going camping or taking a vacation somewhere near a lake, it's possible that you could rent a bay boat. Having one of these fine boats at the ready opens up many possible activities for you and your friends and family.
If you're a renter looking for the best fishing spots, you might then ask, "Why should I use a bay boat over a normal fishing boat or offshore fishing boat?" While bay boats are smaller than some boats, the tradeoff is a much better fuel economy and added agility. Because they're lighter than other boats, bay boats will use less fuel and bring down costs and be able to turn tighter and move faster. Additionally, many bay boats come equipped with plenty of excellent features to help you on your fishing excursions.