Boating in Washington, D.C. Guide: Everything You Need to Know
---
Washington DC is a beautiful city that bears some of our nation's prized historical moments. Visitors typically spend much of their time appreciating great monuments and visiting noteworthy museums. But now that Boatsetter is in the DC area, you can also explore this fine city's waterways and see a different side of the nation's capital.
In this post, we'll go over:
Explore Boat Rentals in Washington DC
Three Best Places to Go Boating in Washington DC
1. Potomac River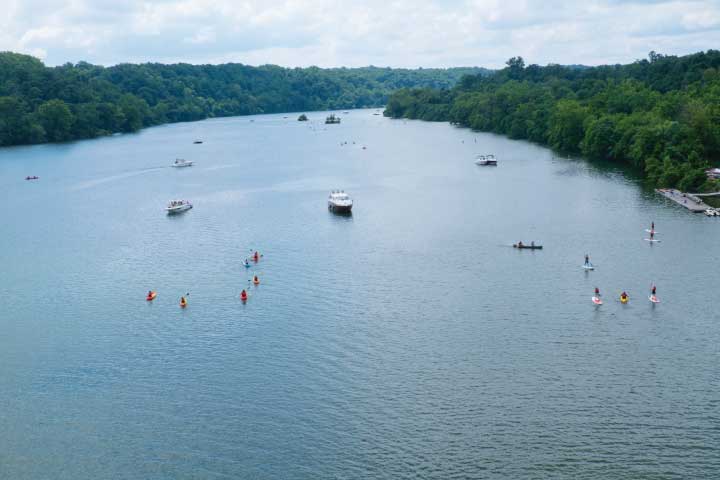 The Potomac River got its name from colonist John Smith in 1608. On its banks sits Mount Vernon, which was home to George Washington. The river runs through the heart of Maryland, touching on Washington DC, Capitol Hill, and other notable landmarks.
It is strongly suggested that the upper Potomac River should be explored with an experienced guide, a licensed captain, or professional boaters. The river has varying water levels, speeds, currents, and volatile white rapids. It is not recommended that your boat is in the following areas:
Between Dam #3 and US 340 Bridge, due to hazardous Class III rapids.
Between Little Falls to Chain Bridge, due to significantly hazardous Class V rapids.
In the Great Falls Area, due to Class VI rapids, pose an extreme risk to life.
You can find more information and view maps here!
Near Capitol Hill, the water is more tranquil. This is a great region to view the Pentagon, Washington Monument, Watergate Hotel, the backside of the Lincoln Memorial, the Jefferson Memorial, the Kennedy Center, and Theodore Roosevelt Island!
Launch at Fletcher's Cove River Access Point and boat downstream and visit Washington, Arlington, and Alexandria in one day!
Find the access point at 4863 Canal Rd NW, Washington, DC 20016.
2. The Chesapeake Bay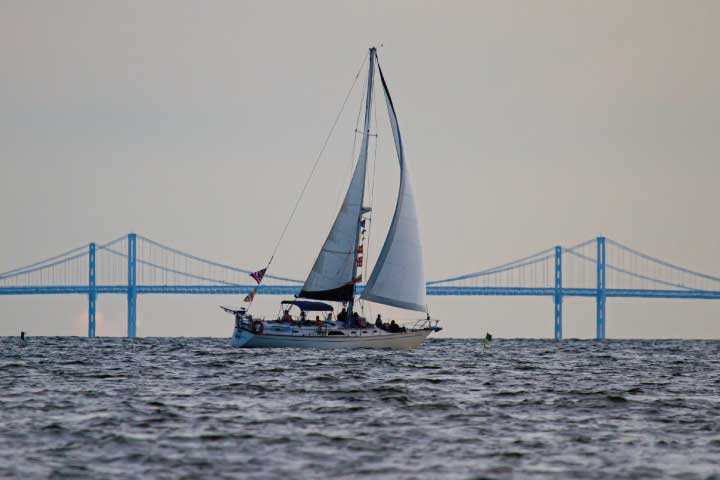 The Chesapeake Bay is about two hundred miles long and twenty miles wide. It is the largest estuary in the US and the third-largest in the world!
It is also known around the world for providing the best powerboating, sailing, yachting, fishing, and cruising experiences.
It hosts year-round boat races, luxurious yachts, houseboats, sailboats, extravagant marinas, a wide array of restaurants, tons of activities on and off the water, and so much more.
Make sure to stop by the Blackwater National Wildlife Refuge to catch sight of the majestic Bald Eagle, which uses this refuge to nest, in action.
Another great activity to do while here is to spend a sunrise or sunset so you can gaze at the sun from the vantage point of this breathtaking bay. The west side of the bay is better known for blossoming sunrises, while the east side is better suited for cool sunsets.
One of the closest boat launches near Washington DC is the Galesville Wharf. You can find it at 4823 Riverside Dr, Galesville, MD 20765.
3. Patuxent River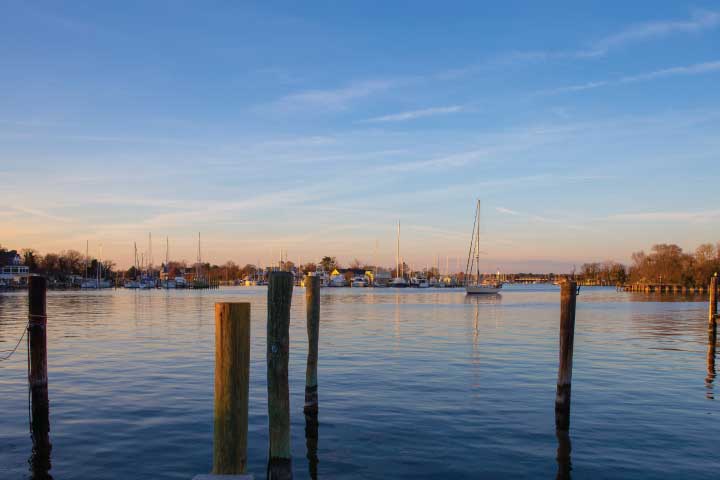 This 110-mile-long river runs east of Washington DC, between WashingtonDC and the Chesapeake Bay. John Smith put the river on the map in 1607, providing boaters, historians, sightseers, and fishermen with directions to this great water destination.
While Solomons Island isn't really an island, it is a point of interest for many. The Patuxent River, sometimes called the Pax River, is home to Solomons Island and Johnstown. It is a boating hub and features the Calvert Marine Museum, Chesapeake Biological Laboratory, Annmarie Garden Sculpture Park, fantastic bed and breakfasts, and delicious waterfront restaurants, many of which serve mouthwatering seafood.
One of the best entry points for Patuxent River is the Solomons Island Boat Launch, which you can find at 14195 Solomons Island Rd S, Solomons, MD 20688.
Friendly Advice: Skip the Anacostia River!
We include this river because many boaters make the mistake of visiting this body of water while in DC without doing their research. While it is possible to boat, you should know a few things first.
This nearly nine-mile-long, slow, gentle river starts in Maryland, runs through the District of Columbia, and flows into the Potomac River, just southeast of Washington DC.
Unfortunately, this river suffers from pollution and has been dubbed as one of the United States' most polluted waterways!
Because of the oil, grease, trash, raw sewage, and toxic chemicals, the DC Department of Health has banned swimming here. While you can boat this river, we highly recommend avoiding it.
Want to do some good for the environment? You can book a green boat and pick up any trash you see along the way.
Washington DC Boating Laws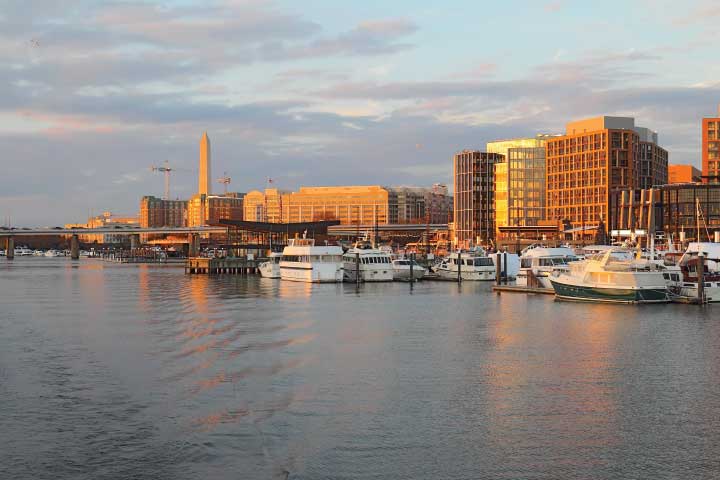 Please visit the official District of Columbia Boating Laws and Regulations page to view the full list of DC boating laws and regulations.
Here are some of the highlights that you should keep in mind.
Persons under the age of 18 cannot legally operate a boat that exceeds 16 feet long without a boater education certificate or without the direct supervision of someone who is at least 18 and has passed the boating safety course. All boat operators who need it are required to carry the Boater Education Card at all times.
Do not operate any vessels while under the influence of drugs or alcohol. Impairment can result in a BUI (boating under the influence) or a BWI (boating while impaired) which can result in fines and jail time that range from $1,000 and 180 days in jail to $10,000 and up to a year in jail. You can receive a BUI or BWI for having a blood alcohol concentration of .08% or greater.
All boats must have at least one wearable personal flotation device (PFD), or Coast Guard-approved life jacket, for every person aboard the boat or being towed by the boat. The PFD must be easy-to-access, in good condition, and an appropriate size for the person it is intended for. It is best to wear the PFD at all times, but that is optional and a personal choice. Boats that are sixteen feet or longer must additionally carry a type IV throwable PFD.
Personal watercraft are allowed, however, it is strongly recommended that each user knows how to swim.
Obey all wake zones and posted speed limits, and do not create wakes in harbor areas.
Never pass between a water skier and their boat.
Washington DC Water Activities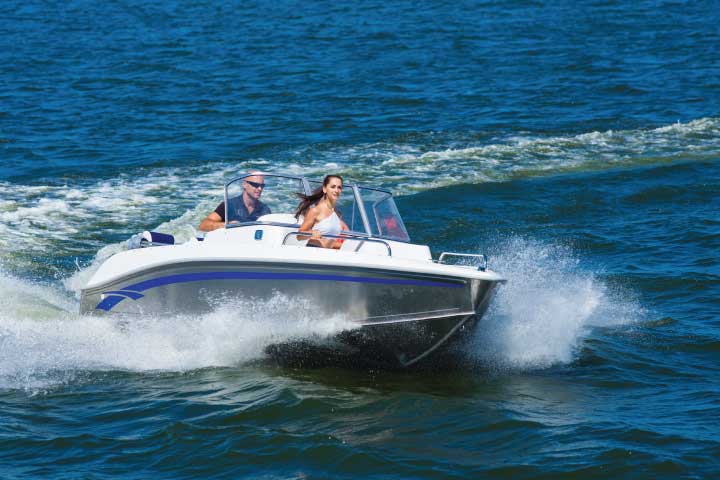 Rent a boat
Whether you're on a sailboat, pontoon, party boat, speedboat, party barge, or yacht, there are just so many ways to enjoy the waters in the DC area! You can try any of these:
Picnic on a boat or grab something from a waterside restaurant
Go kayaking, paddle boarding, or wakeboarding
Go fishing
Sunbathe on the deck
Waterski
Tour the water with a knowledgeable guide (fun facts included)
We have boats for every purpose, snag yours here.
Visit a waterpark
Spend a day at the Hurricane Harbor Waterpark in Six Flags.
If you want to spend a day in the water without venturing onto the boat, check out Hurricane Harbor. This waterpark offers family rides, thrillers, restaurants, shops, waterslides, racers, springs, a lazy river, a giant water funnel, and the notorious Cannonball seventy-foot-drop waterslide.
Ready to explore DC's waterways? Find your Washington DC boat, and even a captain if you'd like, right here.
Don't let your boat sit idly by. List it with us to earn $20K on avg.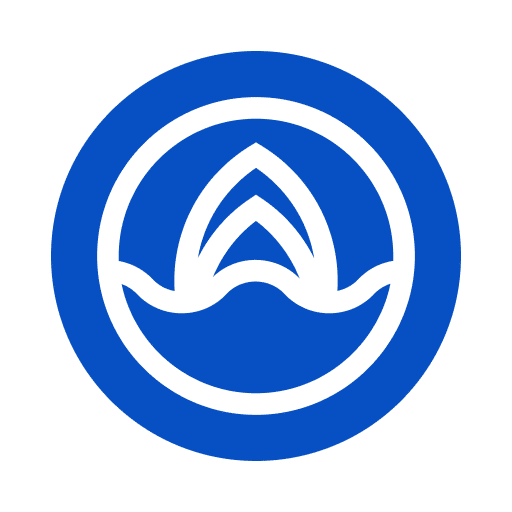 Boatsetter empowers people to explore with confidence by showing them a world of possibility on the water. Rent a boat, list your boat, or become a Boatsetter captain today.