Fishing Report from St. Petersburg – Late October Afternoon // Inshore Action Charters
---
Part 3 of a 3 part series of Fall inshore fishing reports from Tampa.
2:45 PM
We arrive on the south end of St. Petersburg for our afternoon fishing trip with Capt. Matt of Inshore Action Charters. Matt grew up a few beaches north and has been fishing this water since he was 12, getting to know the local waterways and the fish well. Some fish he even calls pets, like the dockside catfish that welcome him home as he cleans the day's catch.
We set off on Matt's custom 23' Hewes tower skiff to hunt the waters of St. Petersburg. As we motor, an osprey swoops low showing off its catch – a good omen of what's to come.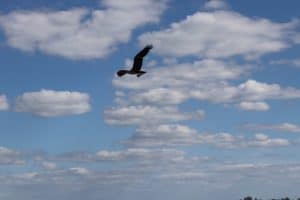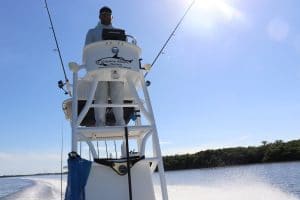 3:10 PM
We use the trolling motor into the state park and Matt hops up on the tower. He starts calling out fish immediately. Single reds, schools sheepshead, nothing big enough to warrant stopping. Even with my polarized sunglasses, the height advantage from the tower lets Matt see fish way before I do.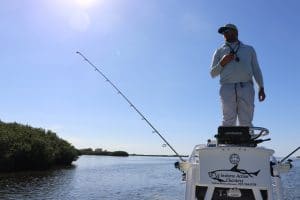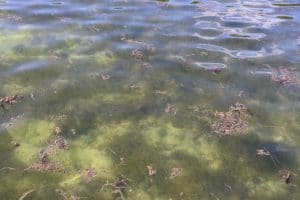 3:25 PM
We set up shop on a ledge near the flats and mangroves. Pickerel was the bait of choice all three days, we fished live bait on a circle hook with great results. We have 3 lines in quickly. The fourth we tried some weight, and before we had time to hand off a rod, we had a fish on. Pretty snook thrashed its way into the boat and we were on the board. The action continued. Nice redfish on board, as well as a very healthy sea trout – the first Matt has seen in this area since the Red Tide. A great sight.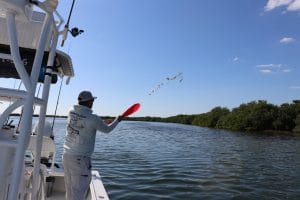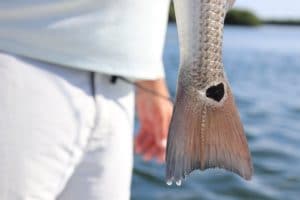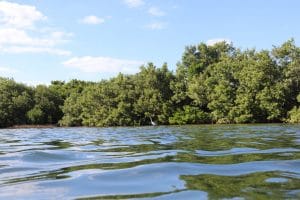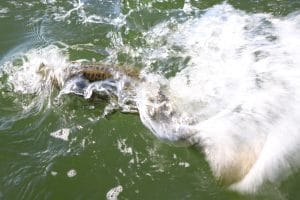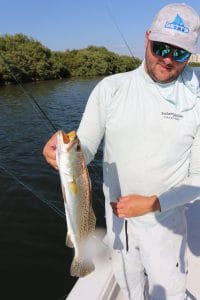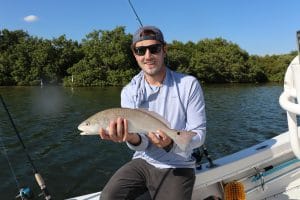 4:45 PM
After landing the Slam and catching tons of fish, we decide to cruise the mangrove shoreline to see if we can find some big solo fish or pods cruising. We catch a few reds and ladyfish. We continue fishing the shoreline.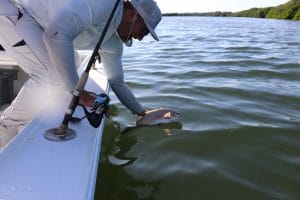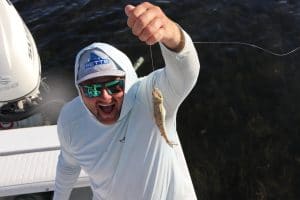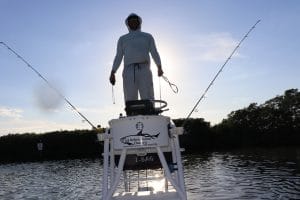 5:30 PM
We decide between tripletail or jacks. I pull the trigger on some jacks after how much fun they were the day before. We high tail it to where Matt knows they hand out in the fading light.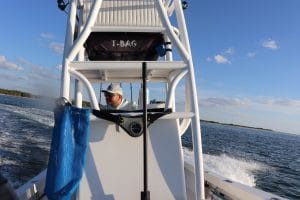 5:55 PM
We fish nearby to some docks, where the snook and local jacks hang out. We catch a grouper, snapper, catfish, and snook, but the jack did not come to play – besides a mean strike and immediate break-off. Besides, what a good fishing trip without the one that got away? A final snook in the sunset and we cap off an awesome afternoon with a full moon hanging over the canal as we return.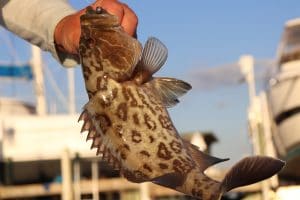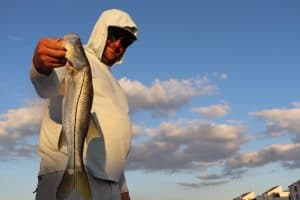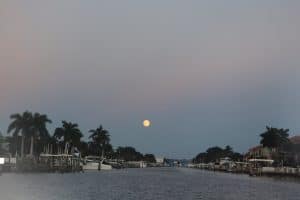 7:05 PM
When we return to the marina, Matt's pet catfish are grateful for the snapper innards and I'm glad for the delicious meal.
Matt Grew up in the area, went to Eckerd College a few miles from where we were fishing, and spends any free time he gets fishing. His tower skiff is a great way to experience St. Pete and the surrounding water, and Matt is both a highly knowledgeable guide and fun captain to spend a day on the water with! Matt focuses heavily on Tarpon when they are in season, so we'll be back again…. You can book a trip here: https://www.boatsetter.com/boats/fwcbbzv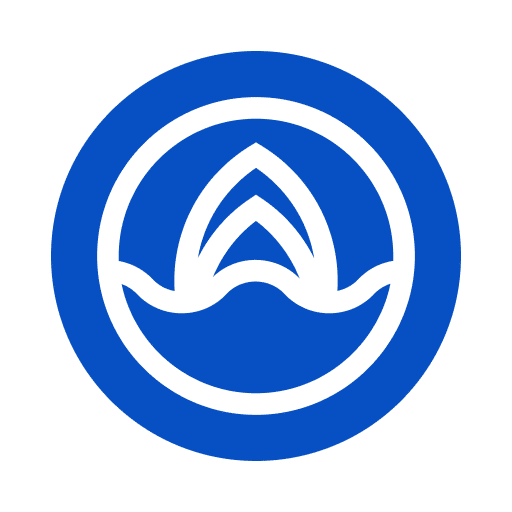 Boatsetter empowers people to explore with confidence by showing them a world of possibility on the water. Rent a boat, list your boat, or become a Boatsetter captain today.