Fishing Report from Tampa Bay – Late October Morning // Ebb and Flow Charters
---
Part 2 of a 3 part series of Fall inshore fishing reports from Tampa Bay.
7:45 AM

Charlie pulled into Gandy as the sun was breaking the horizon with a full live-well and a plan to get on the fish. We were waiting for a high tide, so we took off to some deeper water to try our chances at some mackerel before the tide was more cooperative.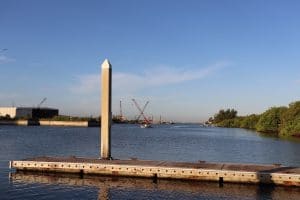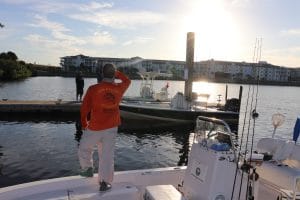 8:23 AM
Before we had time to get a second line in the water, we heard the sound of a mackerel pulling on the drag spinning. Fish on! A pretty Spanish mackerel with some mean teeth. Ladyfish joined in the bite, though were ultimately a distraction from the larger mackerel. One more nice landed mackerel, plus lost one or two due to their razor teeth. From out in the middle of the bay, it felt like a very different fishery than the estuaries fished the day before.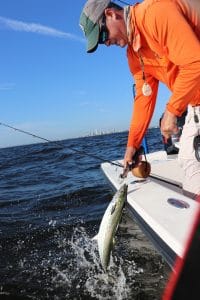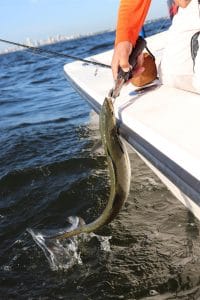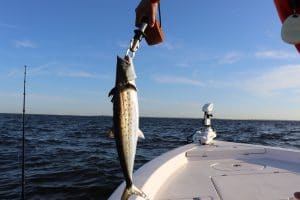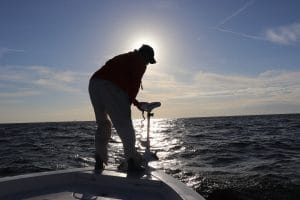 9:40 MA
With the tide changing, we took off to the mangroves in search of cruising redfish and snook. The Minn Kota on Capt. Charlie's boat allowed us to cruise the mangrove shoreline hunting for shadows.
It was peaceful and still in the backwater until you hooked a snook. We landed several nice fish that gave us an acrobatic display. A snook dancing on the surface in a backcountry mangrove cove – a fun sight to see.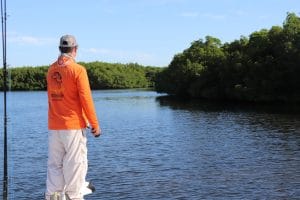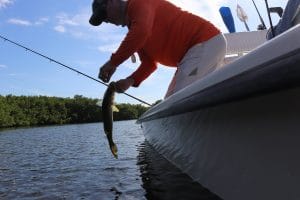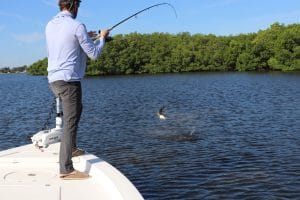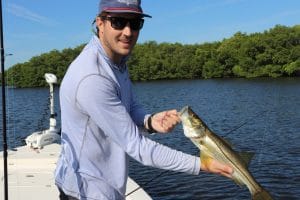 10:55 AM
We shot to one last spot as we made our way back towards Gandy, which turns out to be a honey hole. Large dark shadows of snook lurked by the bank – aggressive fish that ate hard and fought well. A school of cruising jack gave us the day's biggest hookup and fish. "Pound for pound hardest fighting fish in the bay" as Charlie put it. Excellent fight and bully of a fish. After more snook than you can count and an extra hour on the water, we head back to Gandy ramp.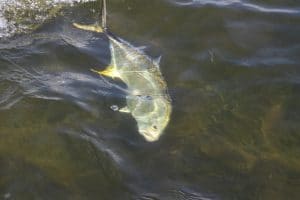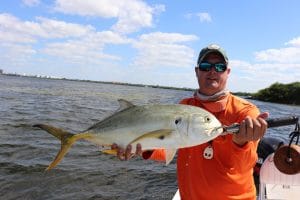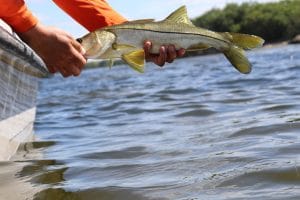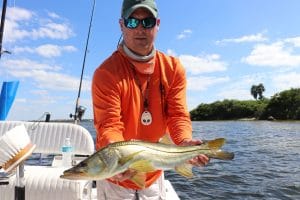 Charlie was born and raised in Tampa, has been fishing the area his whole life, and been a professional guide since 2012. Charlie operates a 22' pathfinder Center Console that easily handled the open water chop and can creep through the backcountry. Book a trip with Capt. Charlie of Ebb and Flow Charters here: https://www.boatsetter.com/boats/bqnqtrd