6 Best Lakes in Wyoming for Boating
---
Nestled in the heart of the Rocky Mountains lies Wyoming, a state that boasts an abundance of small-town charm, rich cowboy culture, and some of the nation's most breathtaking, untouched wilderness.
While Wyoming's landscapes have their fame, there's much to be said for Western lake life. So, take your Boatsetter boat rental out on the water and visit these 6 best lakes in Wyoming for boating:
Alcova Reservoir
Boysen Reservoir
Buffalo Bill Reservoir
Fremont Lake
Jackson Lake
Yellowstone Lake
Explore boat rentals in Wyoming
1. Alcova Reservoir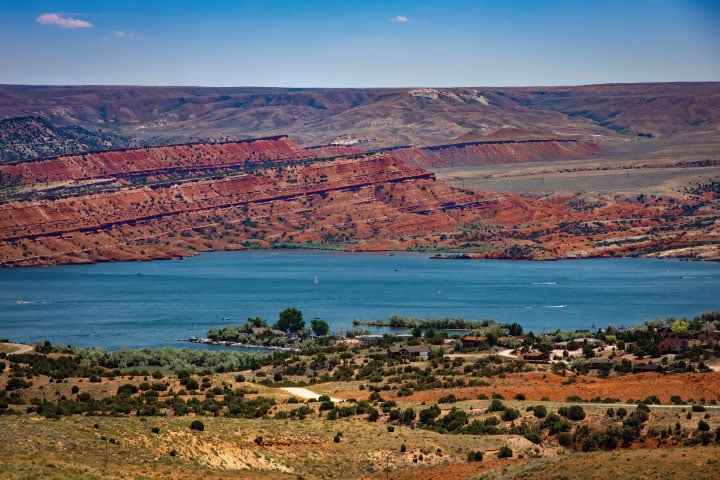 Located about 30 miles west of Casper, Alcova Reservoir is a must-visit lake in Wyoming for anyone seeking an escape into nature. With over 2,500 acres of water to explore, boaters can take in expansive views of rugged mountains, colorful cliffs, and clear blue water from the comfort of their vessel.
Explore the reservoir's many coves and inlets by kayak or canoe, or come ashore for scenic hiking in the surrounding foothills of the Casper Mountains. Anglers will find a variety of fish species in the Alcova Reservoir, including walleye, rainbow trout, brown trout, and smallmouth bass.
Location: Natrona County
2. Boysen Reservoir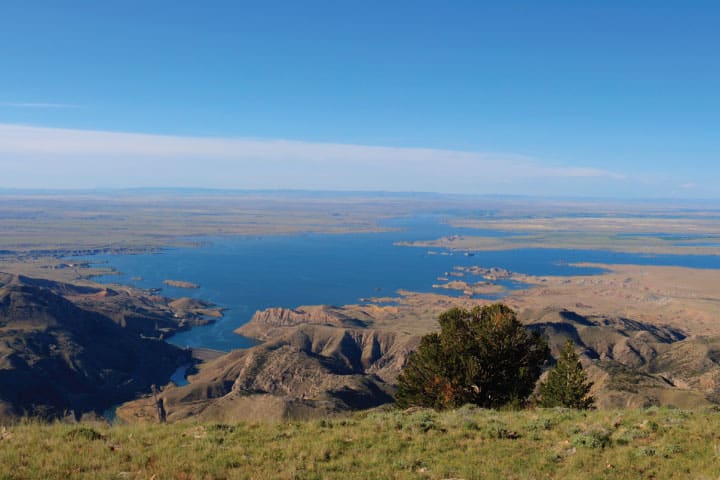 Boysen Reservoir is situated in Wind River Canyon, approximately 20 miles southwest of Thermopolis. The reservoir is fed by the Wind River, meaning the water is clean and clear, perfect for swimming, skiing, wakeboarding, and other water activities. Anglers flock to the area for walleye fishing, with many trophy-sized fish caught here each year.
Fremont County is also home to the Wind River Indian Reservation and Yellowstone National Park, where you can take in towering cliffs, hike through deep canyons, and make the most of your time on and off the water.
Location: Fremont County
Go boating on Boysen Reservoir
3. Buffalo Bill Reservoir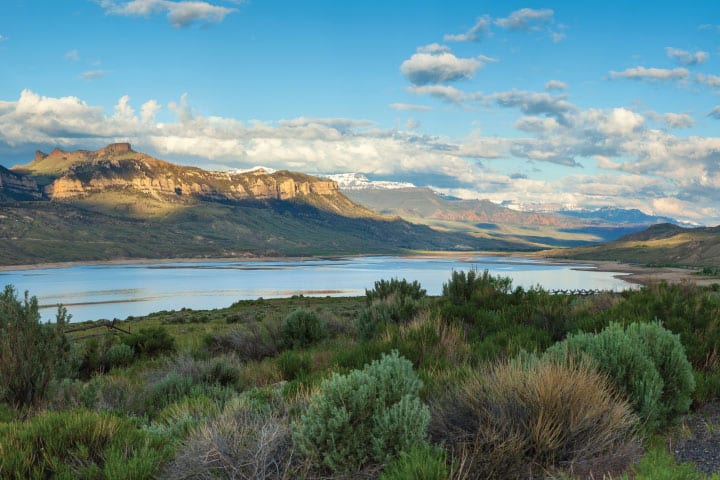 Buffalo Bill Reservoir is the perfect lake in Wyoming for boaters who want to experience the Yellowstone ecosystem without entering the park and navigating the crowds. The reservoir is situated in the Shoshone River Canyon, about 6 miles west of Cody.
Boaters can enjoy recreational water sports, some of the state's best trout fishing, or simply relax and soak in the view. When you scan the shores, you might spot anything from elk and prairie dogs to moose and bears.
Location: Park County
4. Fremont Lake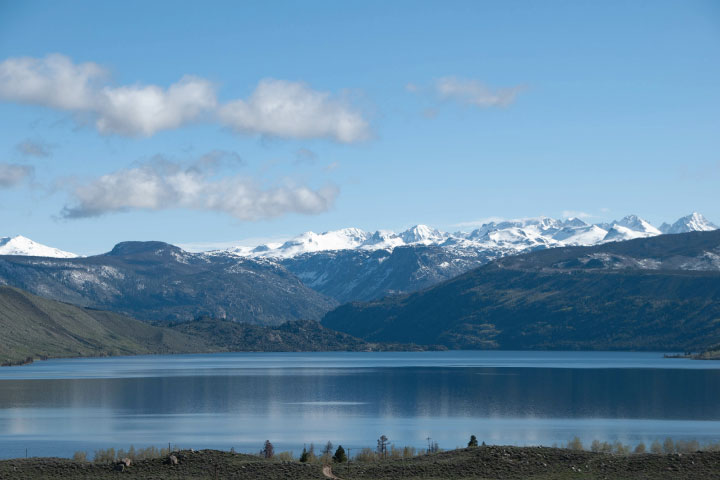 You'll find Fremont Lake in the Bridger-Teton National Forest, flanked by the towering peaks and lush forests of the Wind River Mountains. As the second-largest lake in Wyoming, and one of the deepest in America, Fremont Lake is a popular destination for boating, sailing, kayaking, paddle boarding, and fishing.
Jackson Hole is nearby. Between the picturesque valley and Jackson's small-town charm, visitors can immerse themselves in some of the best the West offers on and off the water.
Location: Sublette County
5. Jackson Lake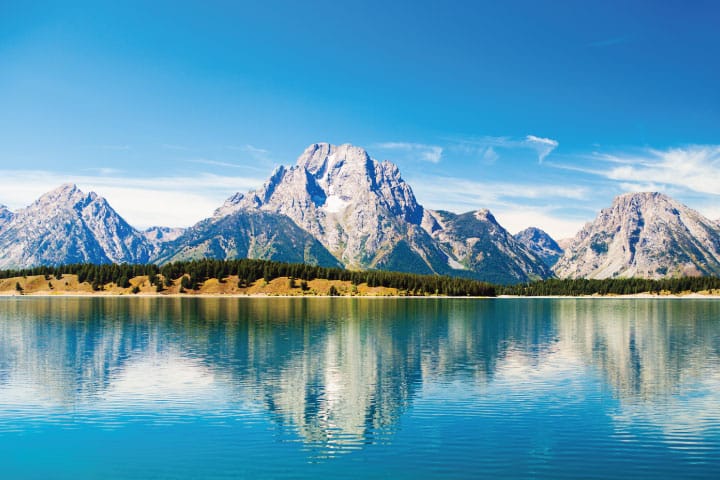 Jackson Lake is the largest lake in Wyoming's Grand Teton National Park. Take a dip in the alpine waters, kayak under the majestic Teton Mountain Range, or cruise around the lake with your eye on the shore. Jackson Lake is a popular spot for wildlife viewing, with opportunities to see moose, elk, bald eagles, and bears.
Teton County is also home to the Teton Village ski resort. The town offers a variety of accommodations, including luxury hotels, cozy lodges, and vacation rentals. Whether you're looking for an active outdoor adventure or a luxurious and relaxing getaway, Jackson Lake in Wyoming has something for everyone.
Location: Teton County
6. Yellowstone Lake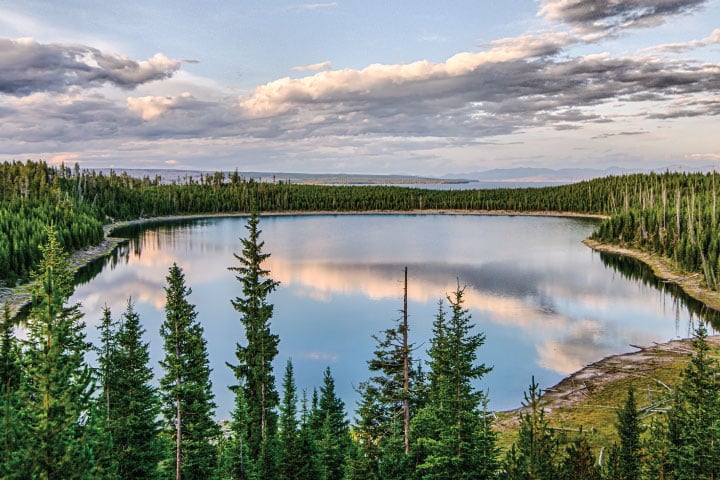 Travel to the heart of Yellowstone National Park and visit Yellowstone Lake, one of the largest high-altitude lakes in North America. With 136 square miles of open water, boaters can make the most of water activities. Rent a kayak or paddle board, try your hand at fishing, or come ashore and hike along the park's trails. Old Faithful, Hayden Valley, and the Grand Canyon of Yellowstone are all nearby attractions.
Location: Park County
From the crystal-clear waters of the Boysen Reservoir to the majestic Teton Mountains surrounding Jackson Lake, this is the wild west for boaters. Want to explore water-travel destinations? Find your next trip at Destination Guides and other boating resources here. Or, click here to go boating!
About us
Boatsetter is a unique boat-sharing platform that gives everyone — whether you own a boat or you're just renting — the chance to experience life on the water. You can list a boat, book a boat, or make money as a captain.
List your boat & start earning an avg. of $20K yearly with Boatsetter