Night Boating: 10 Tips for Staying Safe After Dark
---
Boating at night can be exhilarating! An after-dark cruise or night fishing is exciting and magical, but it doesn't come without some challenges. Visibility is reduced, it's hard to judge distances, and it gets colder at night, which may increase disorientation and seasickness.
Preparation for your night boating trip is essential to provide a safe and memorable cruising. Luckily you've got Boatsetter to help you prepare. Here are 10 tips for a safe night boating:
Prepare your safety gear
Prepare the boat
Prepare your crew
File a float plan
Cruise slow and stay on the lookout
Brush up on the rules of the waterways and light configurations
Use all your information available to you
Prepare for cold and wet conditions
Know how to stay the night
Have an emergency plan
Earn an average of $20K renting out your boat
1. Prepare your safety gear
Make sure you have enough life jackets for everyone aboard and that you can access them quickly. Consider adding a waterproof strobe light or glow stick to each coat so you can see people if they fall overboard. Have multiple flashlights with fresh batteries.
Also, verify your running lights are functioning. Check the condition of your distress flares. Do a VHF radio check. Charge your cellphone and check for coverage where you'll be boating. Test your electronics, including the chart plotter and the radar, if the boat has them.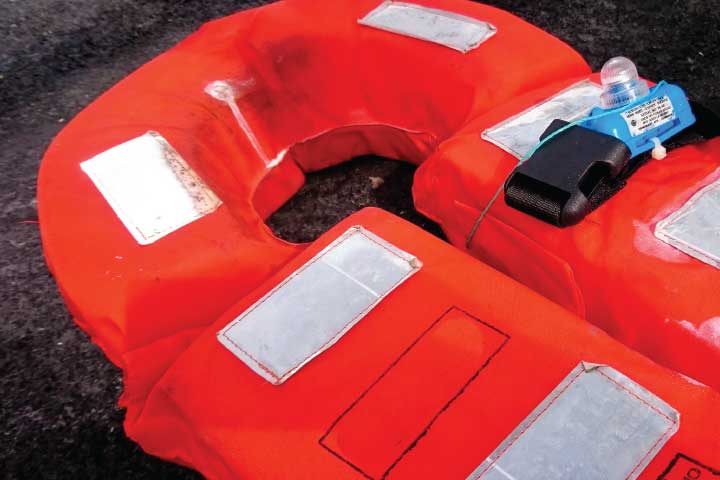 2. Prepare the boat
Check your engine and make sure you have plenty of fuel. Charge your onboard batteries because you'll need them to run lights, instruments, and more. Have fenders and dock lines accessible.
3. Prepare your crew
Do a safety briefing for your guests, including showing them where safety gear is kept, how to use the head, and how to help if you need assistance docking.
4. File a float plan
File a float plan. This is a written document detailing where you're going, with whom and when you plan to return or arrive at your final destination.
These will be the ones to alert the authorities should you fail to check in. So, make sure you choose people you trust. Float plans are always a good idea and may be especially helpful when night boating.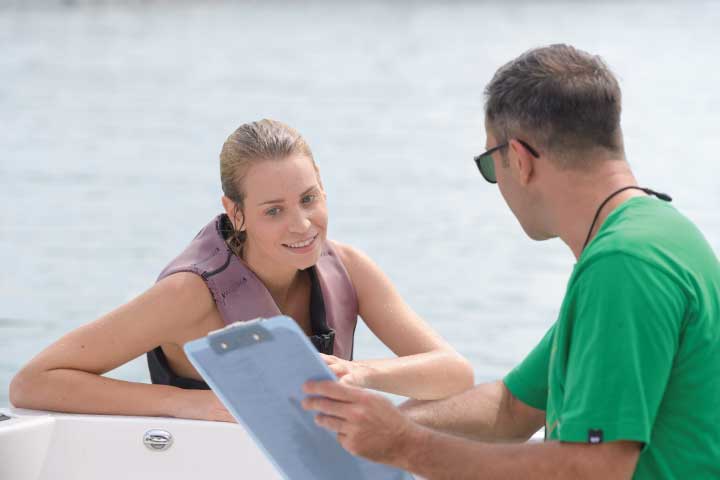 5. Slow down and keep an extra lookout
As we mentioned before, the darkness limits your visibility. Other boats, obstacles, and navigation markers become harder to see, and your ability to judge distance becomes impaired.
The best thing is to cruise slowly and stay on the lookout. Ask a guest to become your second set of eyes. Scan the horizon frequently, including what's happening behind you. Keep all lights other than electronics and running lights to a minimum to preserve your night vision.
Use flashlights with a red filter to help. Even if your boat is equipped with a searchlight or headlights, don't use them until you approach the dock.
6. Brush up on your rules of the road and light configurations
Boats must show specific running lights and light configurations indicating what they're doing. It's your responsibility to know what each light combination signifies.
A handy list of the basics is available from the Weems & Plath compact slide rule. It covers all about light configurations in boating.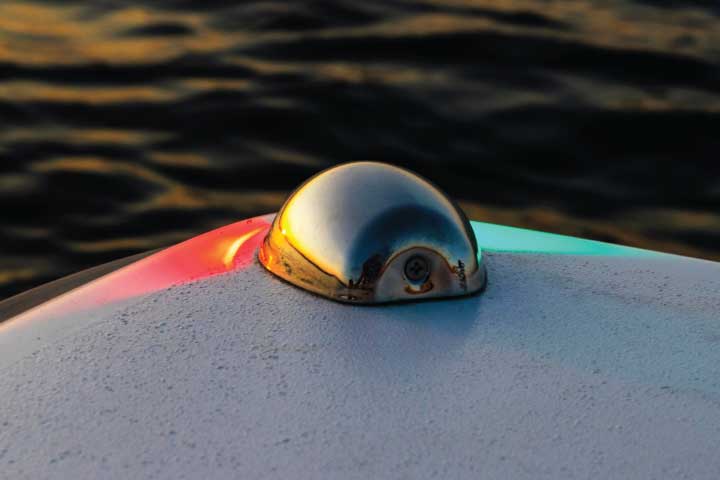 7. Use all information available to you
Know how to use your navigation instruments, including the chart plotter and radar. Listen for bells, boat engines, fog horns, surf, and noise from the land, such as traffic.
You can get information from your senses too! Use your eyes, ears, and nose, then make the best decisions possible. When in doubt, just slow down.
8. Prepare for cold and wet conditions
Although it may be a humid Florida evening, windchills on a moving boat can get uncomfortable and sometimes even dangerous. So ask your guests to bring extra clothes, especially if you'll be boating from daytime to night.
Bring towels to wipe down wet surfaces or to cover someone who is underdressed. Bring hot non-alcoholic drinks in a thermos. Watch for signs of hypothermia or seasickness because guests won't necessarily tell you when they're not well.
9. Know how to stay the night
If you plan to sail through the night or anchor in a cove, prepare warm and dry bedding even if you plan to sleep on deck. Ensure the anchor is set securely, especially in a cove where the wind or current may shift. Oh, and bring bug spray!
When in doubt, post an anchor watch where people take turns sitting up while others sleep. Take bearings on nearby landmarks (not on other boat lights) to check your position periodically as your boat swings. Secure loose gear on deck and below before going to sleep.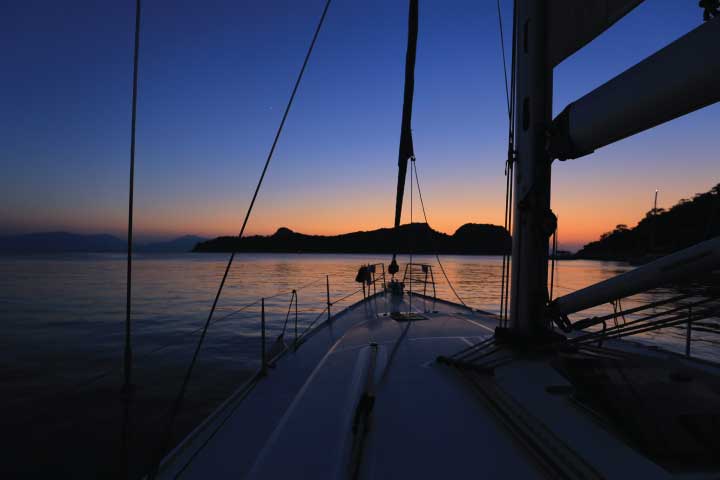 10. Have an emergency plan
Make an emergency plan if you're heading home from a waterfront restaurant or are anchored for the night. Someone could fall ill or have an accident, and there's always a chance of fire or water ingress, so think through how you'll contact a towing company or the Coast Guard to ask for help.
Know who to call and how to reach them via the VHF radio or phone if there's coverage. Rushing back to the dock with a medical emergency aboard is an excellent way to make a mistake and compound the problem.
Nighttime boating can be a blast. It requires preparation and experience to get it right. After considering our advice and a few outings, you'll find it's a beautiful way to enjoy your Boatsetter rental and create new memories.
Don't let your boat sit idly by. List it with us to earn $20K on avg.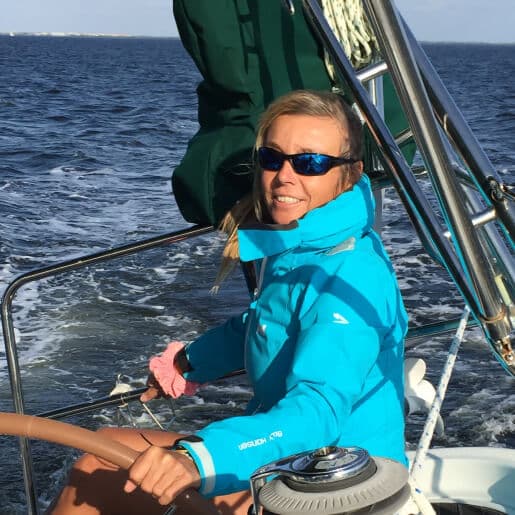 Zuzana Prochazka is an award-winning freelance journalist and photographer with regular contributions to more than a dozen sailing and powerboating magazines and online publications including Southern Boating, SEA, Latitudes & Attitudes and SAIL. She is SAIL magazines Charter Editor and the Executive Director of Boating Writers International. Zuzana serves as judge for SAIL's Best Boats awards and for Europe's Best of Boats in Berlin.
A USCG 100 Ton Master, Zuzana founded and manages a flotilla charter organization called Zescapes that takes guests adventure sailing at destinations worldwide.
Zuzana has lived in Europe, Africa and the United States and has traveled extensively in South America, the islands of the South Pacific and Mexico.