Sailing in San Diego Guide
---
San Diego and the San Diego Bay is a sailing and boating paradise located in Southern California near the US and Mexico border. The San Diego Bay is 12 miles long and up to three miles wide in parts, so there's ample room to stretch your sea legs when you charter a sailboat. The wind often funnels nicely through the are from Point Loma all the way down near Chula Vista so you can fill your sails and have a ball all day long.
The main channel of the Bay has no speed limit, so you can sail full out without restrictions. But maybe the best thing about the San Diego Bay is that the water is protected and flat (at most it gets a little choppy), so you can get up to hull speed in a good breeze without ever having to pound through a seaway.
Explore Sailboat Rentals in San Diego
When to Go Sailing in San Diego
The climate at the bottom of California's 840-miles coastline is mild so you can sail year-round. However, although any time's a great time to sail in San Diego, late spring and fall offer fewer crowds and better breezes.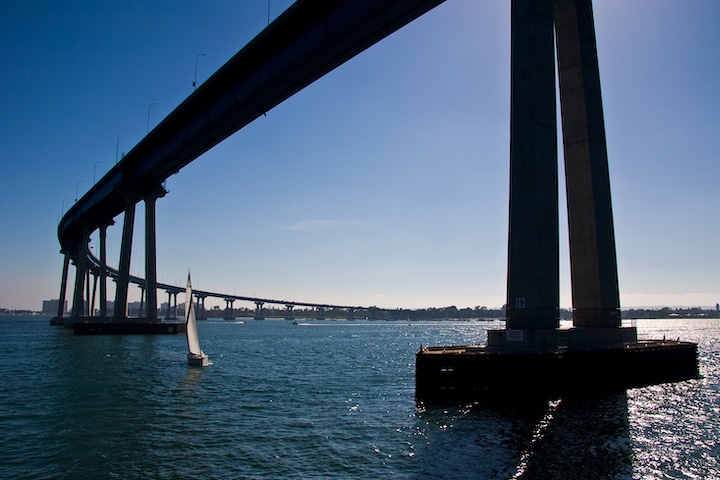 Where to Go Sailing in San Diego
There are many boats to choose from with Boatsetter's San Diego sailboat rentals, from fast daysailers to fully-equipped luxury sloops, so the sky's the limit. There are also lots of marinas and yacht clubs where to tie up for an hour or a night.
Check out San Diego and Southwestern yacht clubs in the Shelter Island yacht basin, or drop anchor in La Playa Cove or Glorietta Bay, both of which are approved for stays up to 72-hours with a permit.
If you're hungry, try out one of the 60 dock-and-dine restaurants around the bay including the fun Bali Hai, the swanky Costerra and the Hawaii-inspired Roy's.
Find Local Sailboat Rentals Near You
Things to Do in San Diego
If you're looking for additional boating inspiration or experiences to explore off the water, check out the San Diego Maritime Museum. There you can tour a half dozen ships including the Star of India, the world's oldest active tall ship. Or, visit the enormous USS Midway, a navy carrier commissioned in 1945.
Also remember that the 1995 America's Cup was held in San Diego Bay, and that you'll be looking at the same scenery during your outing as some of the world's finest sailors did.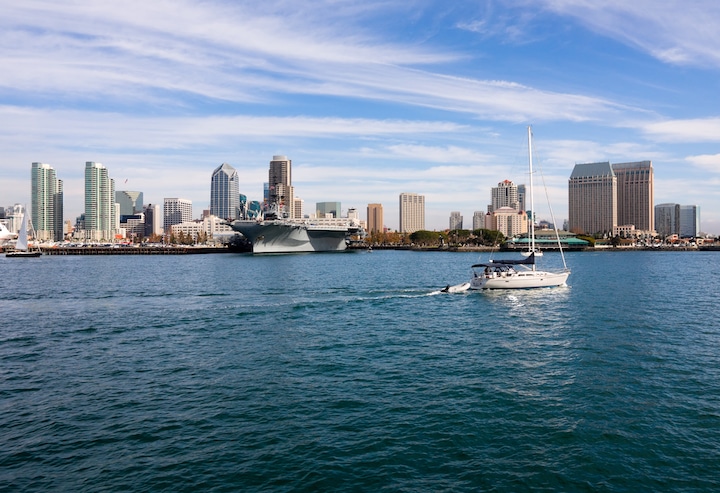 Annual Events & Popular On-Water Activities
The San Diego Bay is always bustling with activity, but there are a few special times of year to visit that will enhance your sailing experience.
Charter a sailboat on the Fourth of July to watch the fireworks, sail under the breathtaking Coronodo Bridge.
Sit back in the cockpit with a cup of hot chocolate and enjoy San Diego's Boat Parade of Lights during the holidays.
Go sightseeing anytime of year; the scenery is never boring in this harbor as you cruise by aircraft carriers, the downtown waterfront and the cliffs of Point Loma.
Dolphins and sea lions are a common sight and if you sail just outside the harbor buoy, you may catch a glimpse of a whale and the rugged Coronado Islands that are just offshore in Mexican waters.
San Diego Sailboat Rentals & Charters
Sailing in San Diego is great for a corporate event, a birthday party or a romantic sunset outing. You and your crew will be the ones all the people on shore are admiring as you tack along the waterfront on your yacht with white sails billowing above.
Charter with a captain who can literally show you the ropes, or go it alone on a bareboat with a peer-to-peer boat rental service like Boatsetter. Check out the California boater card requirements to make sure you're in compliance with the state's laws, especially if you'll be skippering a boat on your own.
San Diego Bay is a natural deep-water harbor and as such it gets a lot of traffic including recreational, commercial and military vessels. You need to keep a good lookout when sailing here and keep a safe distance from all vessels from kayaks to submarines. Enjoy the breeze, the flat water, the amenities and the terrific skyline, all of which make San Diego a sailors' playground and such a fantastic boating destination.
Browse All Available San Diego Sailboat, Powerboat, & Yacht Rentals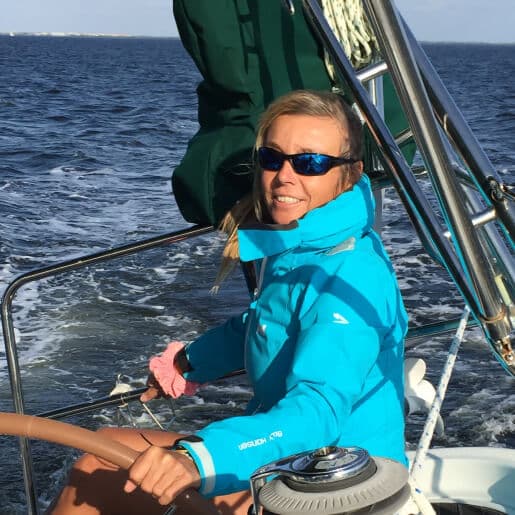 Zuzana Prochazka is an award-winning freelance journalist and photographer with regular contributions to more than a dozen sailing and powerboating magazines and online publications including Southern Boating, SEA, Latitudes & Attitudes and SAIL. She is SAIL magazines Charter Editor and the Executive Director of Boating Writers International. Zuzana serves as judge for SAIL's Best Boats awards and for Europe's Best of Boats in Berlin.
A USCG 100 Ton Master, Zuzana founded and manages a flotilla charter organization called Zescapes that takes guests adventure sailing at destinations worldwide.
Zuzana has lived in Europe, Africa and the United States and has traveled extensively in South America, the islands of the South Pacific and Mexico.