2022 United States (Annapolis) Powerboat Show: Preview Guide
---
Get ready for Annapolis, Maryland's 2022 United States Powerboat Show, taking place October 6-9, 2022. Powerboats large and small will be on display at City Dock at the downtown waterfront including yachts, center console fishing boats, cuddy cabin cruisers, pontoons, powercats, and more. Hundreds of companies will exhibit boats, apparel, accessories, electronics, and general gear. If you're in the market for a boat or marine gear, or if you just want to connect with fellow boaters, plan to attend and maybe also enjoy some boating on the Chesapeake on the same weekend.
There are lots of hotels nearby for accommodations or better yet, forget the hotel and charter a boat for a day or overnight with Boatsetter. You can attend the show one day and then take an afternoon of cruising or fishing the next. We have a variety of choices in our Annapolis fleet so you have options but book early because this is a popular weekend and you don't want to miss the boat – literally or figuratively.
Here's what to expect from the 2022 United States Powerboat Show:
When: October 6th – 9th, 2022
Where: City Dock (Annapolis, MD)
What: New boats, gear and accessories, product demos, contests and giveaways, seminars and speakers, and hands-on learning stations.
Cost: $25 (at gate), $22 (at door), $10 (for children of ages 7-12), FREE (for kids 6 and under)
Enhance your boat show experience with a boat rental: Book here
Own a Boat? Let your boat pay for itself. List, rent, earn — Only at Boatsetter.
New Boats and Demo Docks
Among the exhibitors this year that you can plan to visit are Back Cove Yachts, Blackfin Marine, Crownline, Grady-White Boats, Kadey Krogen, Nordhavn Yachts, Raymarine, Viking Sport Cruisers, Yamaha, Tiara, Helly Hansen, Chesapeake Bay Magazine, BoatUS, and more.
PropTalk Magazine and the BoatUS Foundation will be hosting the Demo Dock with something for everyone.
SeaKeeper will demonstrate its gyro stabilization system that reduces fatigue and seasickness, while Yamaha will showcase its Helm Master EX system with joystick driving for single to quad outboard applications. There are plenty of hands-on demonstrations for you to learn or you can try-before-you-buy to what kind of boat appeals to you.
VIP Experiences
VIP Experiences for this show are sponsored by La Victoire Finance. You have two VIP selections to choose from:
VIP Lounge Ticket – Boat Show admission with single-day access and unlimited entry to the red carpet lounge for social food and drinks. This experience is worth $175.
VIP Parking Pass – One ticket for a spot for your car in a convenient parking lot.
Pro Tip: There is the option of a VIP Lounge Ticket plus a Parking Pass for $200. Pets and strollers are not allowed into this event.
Door Prizes
Get ready to win! If you purchase advance tickets online or sign up at the show, you can win special door prizes including a photograph by Jay Flemming of the Thomas Point lighthouse on the Chesapeake Bay, a POP stand-up inflatable paddleboard, and other neat prizes.
Here's our final Pro Tip: Call up a babysitter or fur babysitter; pets and strollers are not allowed at this event.
Get ready for new boats and gear this October. You can discover more boating events like the US Sailboat Show at Boatsetter's Boating Guides & Resources!
Boatsetter is a unique boat-sharing platform that gives everyone — whether you own a boat or you're just renting — the chance to experience life on the water. You can list a boat, book a boat, or make money as a captain.
Explore All Available Boats for Rent near Annapolis, MD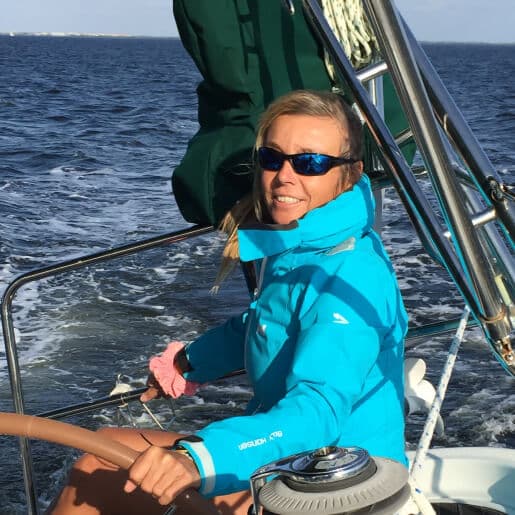 Zuzana Prochazka is an award-winning freelance journalist and photographer with regular contributions to more than a dozen sailing and powerboating magazines and online publications including Southern Boating, SEA, Latitudes & Attitudes and SAIL. She is SAIL magazines Charter Editor and the Executive Director of Boating Writers International. Zuzana serves as judge for SAIL's Best Boats awards and for Europe's Best of Boats in Berlin.
A USCG 100 Ton Master, Zuzana founded and manages a flotilla charter organization called Zescapes that takes guests adventure sailing at destinations worldwide.
Zuzana has lived in Europe, Africa and the United States and has traveled extensively in South America, the islands of the South Pacific and Mexico.