Fishing in Hilton Head Island, SC Guide
---
Fishing in Hilton Head would be best described as awesome, and whether you're thinking about booking a fishing charter or renting a boat in Hilton Head and heading out on your own, one thing is for sure: there are plenty of fish to be caught in these waters.
Hilton Head Island is located a little under 100 miles south of Charleston, SC, and around 30 miles north of Savannah, GA. It offers easy access to both inshore and offshore angling, and thanks to the many rivers, creeks, and coves feeding Port Royal Sound and Calibogue Sound, no matter which way the wind blows, there are always relatively sheltered waters nearby.
Explore All Available Fishing Boat Rentals in Hilton Head
Where to Fish: Best Hilton Head Fishing Spots
Fishing in Hilton Head can be broken down into two main categories: inshore, and offshore.
Inshore Fishing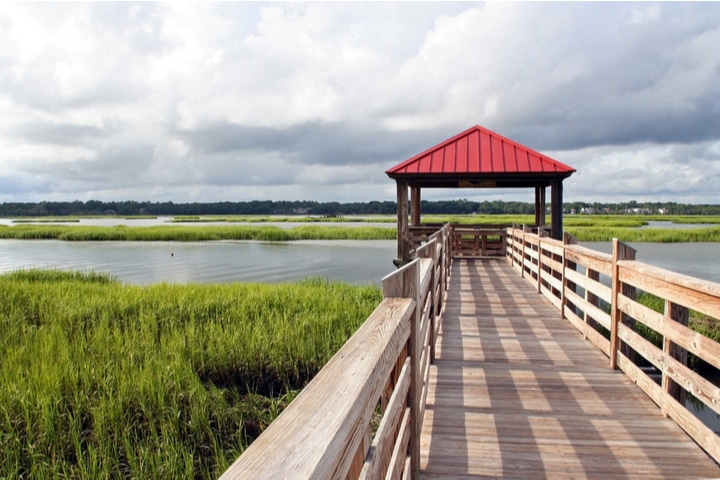 Inshore fishing in the sounds, bays, and rivers surrounding the island offers nearly countless opportunities.
Calibogue Sound, running in on the south side of the island, has deep-water channels branching off westward into the May River and cutting behind the island at Moss and Mackay Creeks.
On the north side, the larger Port Royal Sound joins the Chechessee, Broad, and Beaufort Rivers.
The sounds and larger river areas give anglers a shot at numerous species, like redfish, speckled sea trout, flounder, and sheepshead.
One of the most interesting opportunities in Hilton Head, however, is to actually fish inside the island itself. Waterways like Broad Creek snake their way through the island creating marshes and lagoons with flats and channels that attract species like drum, specks, and even tarpon. In many areas the water can be crystal clear, allowing for sight fishing.
Offshore Fishing
The Continental Shelf is a very long cruise from Hilton Head, located about 65 miles off the coast. So while it's possible to pursue offshore pelagic species like marlin, tuna, and mahi-mahi from here, most anglers instead focus on the shoals, wrecks, and reefs when fishing the ocean waters off Hilton Head—which fortunately are so riddled with fish that those longer runs are usually unnecessary to fill the cooler.
Book a Hilton Head Fishing Charter
What to Fish for in Hilton Head: Top Species List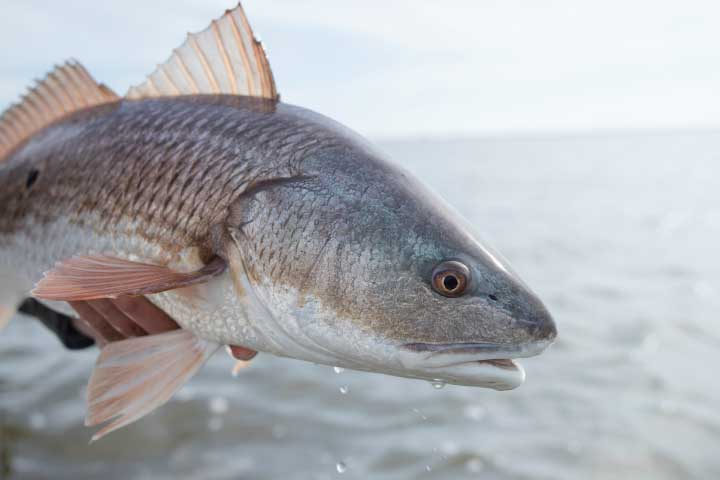 When fishing the inshore waters, sounds, and creeks, you're likely to encounter:
Cobia (in deeper, open water areas)
Drum (both black and red)
Flounder
Sharks (multiple species)
Sheepshead
Speckled sea trout
Tarpon
Tripletail
Enter the ocean and head for a wreck or reef site, and there's a good chance you catch fish including:
Amberjack
Barracuda
Cobia
Bluefish
King mackerel
Sharks
Sheepshead
Spadefish
Spanish mackerel
Tripletail
When is the best time to go fishing in Hilton Head?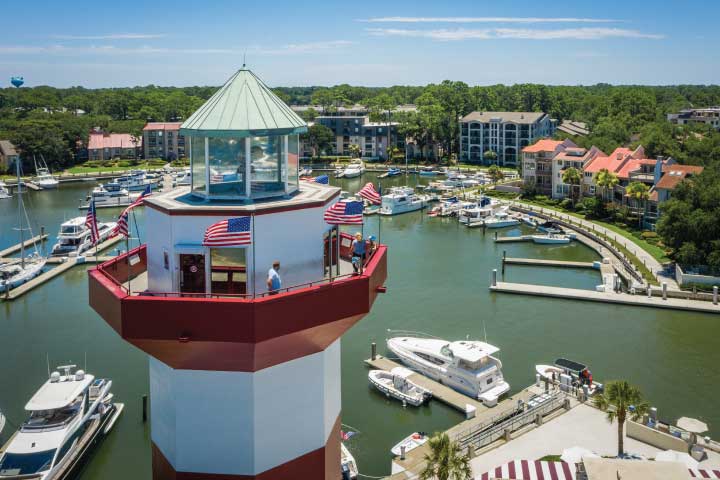 Hilton Head offers year-round fishing action, but it's also well known as one of the northernmost areas still far enough south to offer red-hot fishing in the middle of the winter.
In fact, from December through February it's a top destination with big schools of redfish prowling the shallows. Another unique winter fishing opportunity can be found at the ocean wrecks because sheepshead migrating down from northern waters often stop here and swarm around structure.
In the spring, speckled trout and flounder fishing pick up, and this is the time when some larger species also begin to cruise through the waters on the coast and in the sounds. Cobia, big black drum, and sharks will all make their presence known. As spring turns into summer some migratory species will head north while some others, like Spanish mackerel and tarpon, stick around for the duration.
Fall means the fish will begin trying to fatten up for winter, and the fishing can range from fantastic to incredible. Inshore, the reds, specks, and flounder will likely be feeding with abandon. And out on the wrecks and reefs the king mackerel, jacks, and blues will often be in a feeding frenzy.
Ready to go fishing in Hilton Head?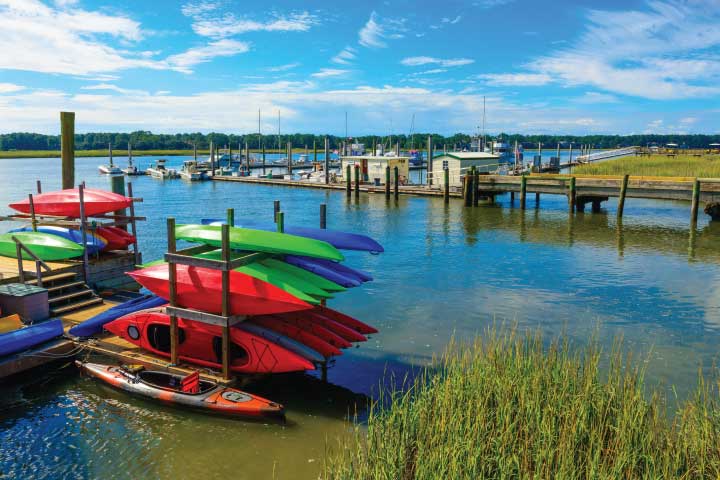 Again, when considering fishing in Hilton Head it's wise to divvy between inshore and oceanic options because how you'll want to fish these very different environments is completely different.
Inshore, casting lures and live baits on light tackle rules.
Anglers who prefer to use artificials commonly cast leadhead jigs with soft plastic tails, topwater lures, or swimming plugs.
Those who like using live bait often set out live shrimp, or sometimes baitfish like mullet.
And, when conditions are calm enough to allow for it, sight fishing along flats and grassbeds can be incredibly popular.
Most anglers heading out into the ocean will focus on one of two methods: trolling, or bottom fishing with bait. Fast swimmers like Spanish and king mackerel or bluefish generally respond best to spoons or similar artificials being towed through the water. But if you're after species like sheepshead or spadefish, anchoring over structure and dropping cut bait to the bottom is the move.
So: are you ready to head for Hilton Head, and try your hand at some fishing? We certainly hope so. Because casting a line into these waters is a great way to spend a day—and an even better way to enjoy your time afloat on a boat.
Browse All Available Fishing Boat Rentals in Hilton Head Island, SC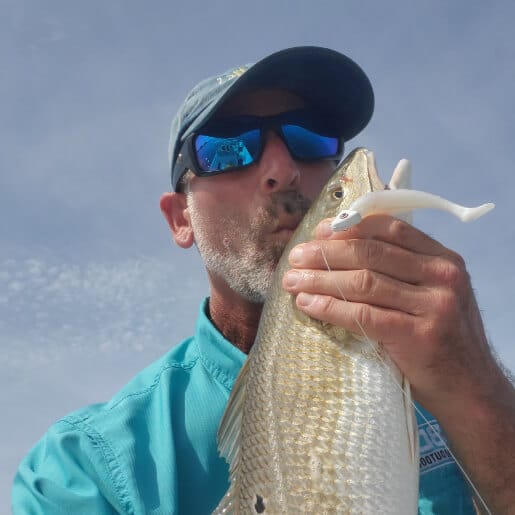 With over three decades of experience in marine journalism, Lenny Rudow has contributed to dozens of boating and fishing publications and websites ranging from BoatU.S. Magazine to BDOutdoors.com. Rudow is currently the Angler in Chief at Rudow's FishTalk, he is a past president of Boating Writers International (BWI), a graduate of the Westlawn School of Yacht Design, and has won numerous BWI and OWAA writing awards.