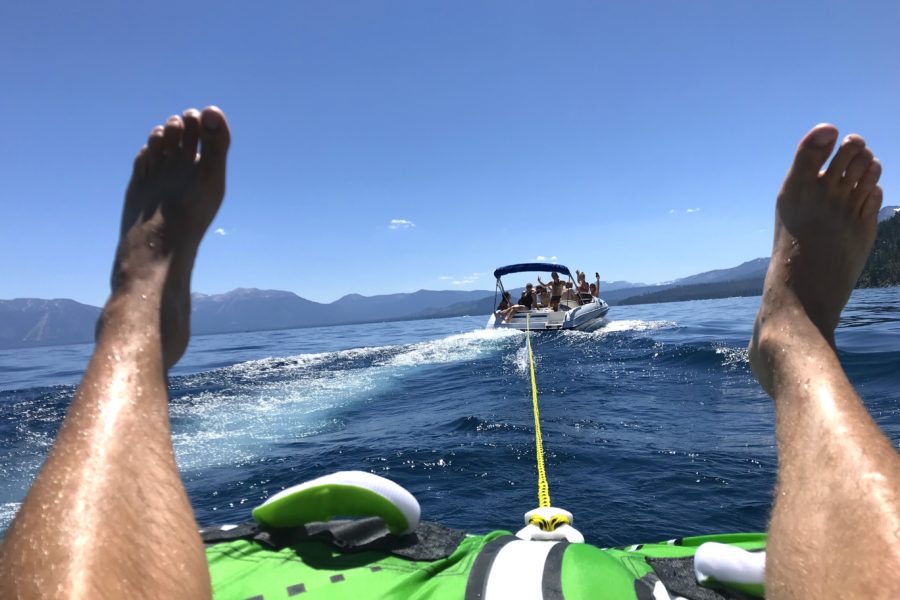 Your Guide to Planning the Ultimate Watersports Day with Dad
Planning a full day of fun activities for Dad and something that the whole family will enjoy can be challenging. That's why, with Boatsetter, it's made easy to plan a fun day on the water. With access to a variety of boats and watersports to choose from, it's simple to plan a full day of creating memories that will last a lifetime. Here's a guide on how easy it is to plan the ultimate watersports day for Dad and the family.
Decide on What Type of Watersports to Try
There are a variety of watersports to choose from that are fitting for the entire family. Whether you have little ones or older children, you'll be able to find the right activity suited for your family. Here are options for your day out on the water.
Tubing
Tubing is the perfect activity for everyone, even the little ones. With just a rope and an inflatable tube, you can be set for an entire day of laughs and enjoyment. The extremity of tubing can vary depending on the tube you use, here are a few to choose from:
Donut Tube:
Double Seater Tube:
Body Tube:
Banana Tube:
Water Skiing
Skiing is a great activity if you're interested in trying out a new watersport skill, at a beginner level. All that is needed is a ski rope and water skis. Learning how to waterski will require some patience, but is an incredible skill to learn and could help kick start the ability to learn other watersport skills like wakeboarding and wake surfing.
Wakeboarding
Wakeboarding is perfect for those that are relatively seasoned or experienced with watersports. This activity requires a ski rope and a wakeboard, which are usually included with a wakeboard boat rental. If dad loves a little bit of a challenge, this is the right activity for your Father's Day.
Wakesurfing
Wakesurfing is a more recently founded watersport that requires some prior experience. In order to properly wakesurf you'll need a ski rope, wakesurf board and a big enough wake created by the boat. Some newer wakeboard boats have the technology to create a big enough wake, but it's important to ask the owner to make sure this is possible with their boat.
Choose the Right Watersports Boat Rental
Watersports can easily be enjoyed on a variety of boats. It's important to ensure that the boat you rent has the capability to allow you to enjoy the watersport you choose for Father's Day.
Deck Boat
A deck boat is a great choice if you are looking to get on the water while being on a relatively spacious boat. This type of boat rental is well suited for tubing, skiing and wakeboarding. Some of these boats even include a bathroom, if you plan to stay out on the water all day.
Wakeboard Boat
A wakeboard boat rental is perfect for any watersports activity—tubing, skiing, wakeboarding and wakesurfing. These boats are equipped with everything you need from the poles to tie your ski rope onto, to compartments to hold the boards so that you have more room to sit. Some newer wakeboard boats even have the technology built into them to create the wake needed for wakesurfing.
To find the perfect watersports boat for your Father's Day family-fun, head to www.boatsetter.com/watersports and simply search the location you prefer to go boating in.
What You Should Have or Bring Onboard
It's important to be prepared for your day out on the water. Consider doing and bringing the following before your Father's Day activity begins:
Ask the owner ahead of time if they have the equipment you need for the activity you choose. If not, bring what's needed to fulfill the activity.
Bring the appropriate SPF sunblock so that you stay protected from the sun. Being in the water can enhance your chances of gaining more sun exposure on your skin. If able to or necessary, bring a rash guard to help your skin from the sun.
Bring enough towels onboard to ensure that everyone has one to dry off with.
Bring a cooler of snacks and water so that you stay fed and well hydrated throughout the day.
No matter the experience you choose for this Father's Day activity, you'll be sure to create memories that will last a lifetime, with the ones you love most. Book your Father's Day watersports experience today.