Hurricane Preparedness Checklist for Boaters
---
For coastal boat owners, the annual Atlantic Hurricane Season can bring a lot of questions and concerns. Even a glancing blow from one of these monsters can cause surprising damage and even sometimes loss. Not to mention, a sunken boat causes great damage to our environment! So, how do you prepare a boat for a hurricane?
Here's seven steps to take when preparing for a hurricane:
Create a plan
Move the boat out of the storm's path
Take the boat out of the water
Secure your boat to the dock
Cushion potential blows
Store precious items elsewhere
Don't try to ride out the storm onboard
Let's get to work securing your boat—read this post entirely for additional Boatsetter Pro Tips.
Keep up with the latest tips and advice from our experts by reading other Boatsetter Owner Tips.
Create a plan
To prevent possible damage or loss, develop a hurricane preparedness checklist or plan. Create it ahead of time so you can react quickly to the threat. Your checklist might include to-do items such as:
Safety store and secure straps, extra dock lines, fenders, and other supplies where you can quickly retrieve them.
Practice going through protective motions so you know how long it will take.
If you plan to move the boat, know the route before it's time to go.
Have necessary supplies on hand.
By being prepared, you can greatly increase the success of your preparedness plan.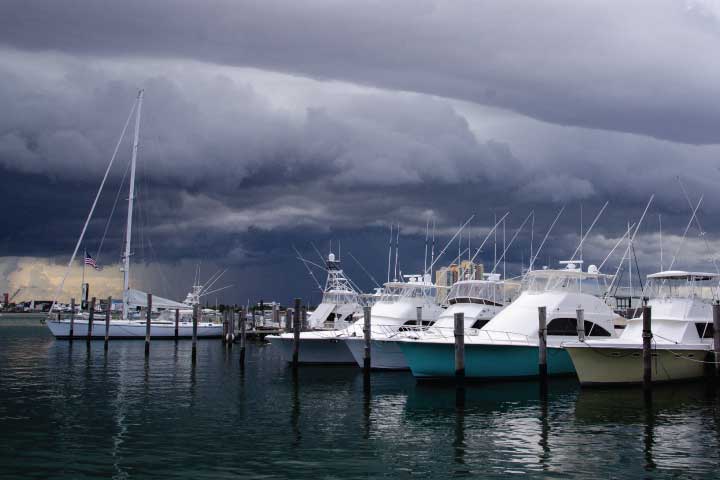 Get the boat out of the storm's path
The best hurricane preparedness practice is to move the boat.
If it's trailerable, get the boat out of the water and away from the projected path of the storm.
Also, move the boat inland and away from the coastal areas where the storm's destructive forces may be higher if possible.
Pro Tip: Tie down the boat to the trailer as well to stabilize your vessel in the event of forceful winds.
Take the boat from the water
If it isn't possible to move the boat to a safe harbor, your next best option is to get the boat out of the water. In extreme cases, boats may flood with rain and rising seawater even when on land, but outside of the water, your vessel has a higher chance of less damage. If you can pull your boat out of the water, do it!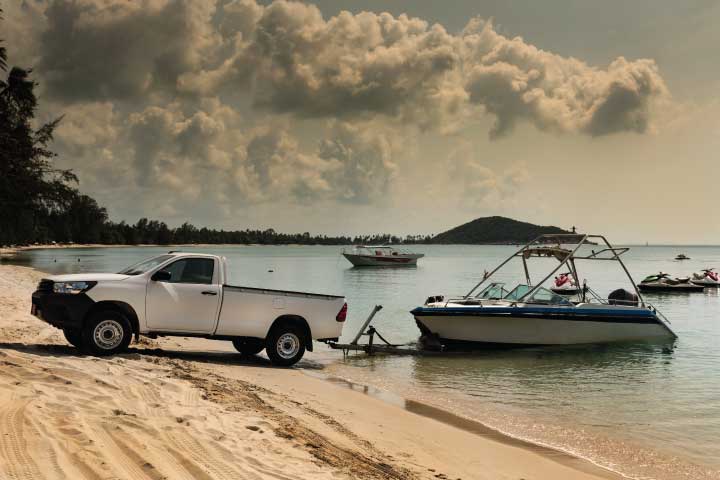 Securely tie slipped vessels
If you cannot move or take your boat out of the water, securely tie your boat to the dock. Don't be shy, you can't have too many dock lines.
Although most boats can weather a lot of wind and rain soundly, how and where they're secured can mean the difference between staying afloat and a trip to the bottom.
If the boat must stay in the water, ensure it has good, fully charged batteries so bilge pumps continue to work. If power is expected to be available, have other pumps onboard to help stay afloat.
Tie the boat for all it's worth! You can't have too many dock lines.
Use good quality and condition lines that are bigger than they need to be and protected with anti-chafing coverings when possible.
Double or even triple up on dock lines and tie lines around pilings instead of cleats to provide better security.
Cushion potential blows
You can't have too many fenders. Big ball or "teardrop" fenders are best; they hold the boat further away from the dock (or other boats) than barrel-shaped ones. No matter which you prefer, hang as many fenders around the boat or dock as possible to protect it from impact.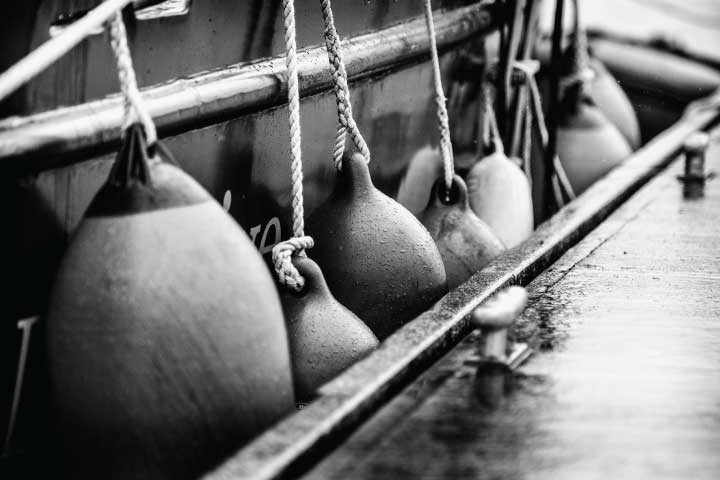 Remove all things of value
Remove all camper tops, biminis, tonneaus, and any other material that increases your boat's surface area and can be easily torn to shreds in high winds. This will also help protect the canvas from other flying objects and from having it torn loose and blown away.
Take any other expensive removable items off the boat and store them away as well, such as removable or handheld electronics or expensive tools. Take off and put away the things of value to you.
Don't try to ride out the storm onboard
All boat owners, and particularly owners who list their boats for rent on Boatsetter, under how valuable their boat really is. But most importantly, your life and the safety of you and your loved ones is worth much more. Do not try to ride out any storm by staying onboard the boat to help protect it, either in the slip or out on the open water.
Take every other step possible to protect your boat from one of nature's most notoriously destructive forces. There is no such thing as "too much" when preparing for a hurricane.
Haven't Listed Your Boat for Rent on Boatsetter Yet? Get Started in Less Than 15 Minutes
---
Boatsetter is a unique boat-sharing platform that gives everyone — whether you own a boat or not — the chance to explore the water. You can list a boat, book a boat, or make money as a captain.
Let your boat pay for itself. List, rent, earn — Only at Boatsetter.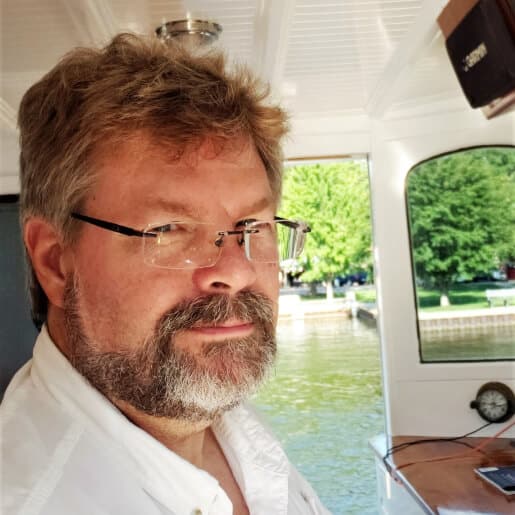 Chuck Warren fell in love with boats at 9 years old while helping to restore his grandfather's 1939 44-foot Elco cruiser. A lifelong boater, Chuck has experience operating large and small vessels on the waters of the Atlantic, Gulf of Mexico, Caribbean, and the Great Lakes.
During his 35-year marine industry career, Chuck has been the driver for several offshore powerboat racing teams, the chief engineer aboard a Caribbean research and salvage vessel, captain of a Florida Keys sunset cruise, and more.
Today, Chuck is a boating industry writer, copywriter, and captain who lives on his 40-foot boat in the summer when he isn't delivering vessels around the Great Lakes or teaching new boaters to drive. Winters are split between the West Michigan lakeshore and wherever his travels take him.