Retiring on a Sailboat: 5 Tips & Best Boat Types
---
So you've reached the golden age of retirement— congrats! And you're considering retiring on a sailboat? Smart move. It can be a rewarding experience, but before you pack up your boxes, read up on our five tips for retiring on a sailboat:
Set a destination
Calculate how much you need to live
Make a game plan & transition all essentials
Consider climate & weather conditions
Best sailboats types for retirement
Make sure you read all the way through to catch our super important Pro tip at the very end!
Get a feel for life on the water— Browse available sailboat rentals here
1. Set a destination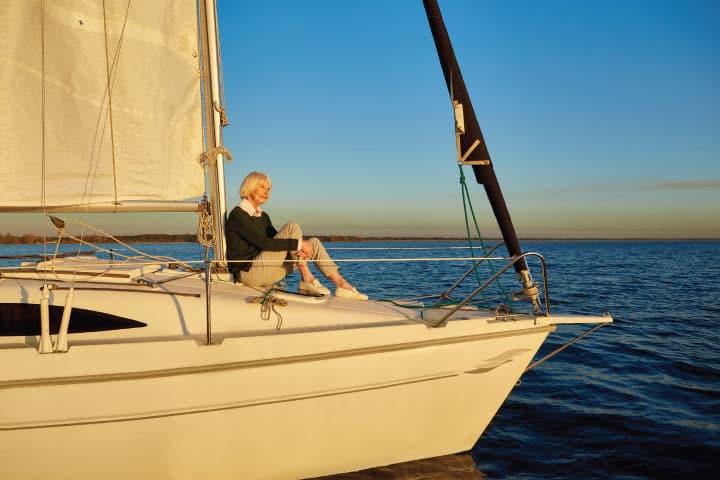 Are you moving aboard a sailboat to cruise and see the world in retirement? That's the best reason to make the move, but be sure that your mate is up for the same adventure and that the sailboat you choose can make the voyage.
2. Calculate how much you need to live on a sailboat
Are you downsizing to a boat to save money? Don't assume that living on a boat is cheaper. You'll still pay a monthly slip fee, insurance, property taxes, and utilities like electricity. You may also have a boat mortgage. Boat maintenance costs are often 20-25% higher than house repairs, and contractors are even harder to find.
3. Make a game plan & transition all essentials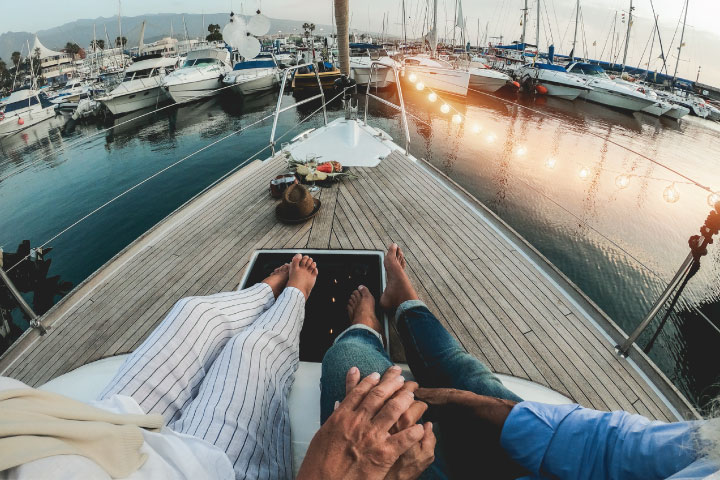 We're all for the idea of living your glorious retirement days on a sailboat, we just recommend that you keep in mind that boats are smaller, wetter, colder/hotter, and can be hard to get around for kids, pets, and the elderly.
Many marinas have laundry service, a bathhouse, and some even have a mini-mart. Still, you have to know where to the dock. And for those Amazon packages, you'll have to find a place to send those too.
That said, knowing what comforts are essential to you and having a game plan for such things prior is your best course of action. And don't forget your health! Make sure you bring any and all treatments aboard and let your primary care doctor in on your plans.
4. Consider the climate & weather conditions of your area
Can you find a marina that allows liveaboards in a climate that is accommodating? When contemplating the transition to living on a sailboat, climate is a pivotal factor to weigh. Research the regions you plan to navigate, considering seasonal variations, temperature ranges, and prevailing weather patterns.
5. Best sailboat types for retirement
Now that we've given you enough to think about, let's get into the fun stuff— sailboat types perfect for retirement. If you're looking to live on one full-time, have a significant budget, and have definite ideas about comfort, consider the boats below:
Catamarans have lots of space both inside and on deck. You'll also have a redundant system, like freshwater and bilge pumps. You have more stability in a rolly anchorage. One drawback to Cats is finding a slip big enough to fit into and a boatyard that can haul them for maintenance and repairs.
Trimarans have more room than monohulls of the same length. That said, unless they're designed for distance cruising, they're less convenient and spacious than catamarans. Some tris have folding amas (outer hulls), which helps them fit into standard-sized slips.
Distance cruisers are designed for voyaging (even if they're not large) and are better suited to living aboard because they have numerous amenities that make daily life easier. More refrigeration, spacious layouts, and large water tanks all make retirement aboard more comfortable than sparse race boats.
READ MORE: 10 Best Beginner Sailboats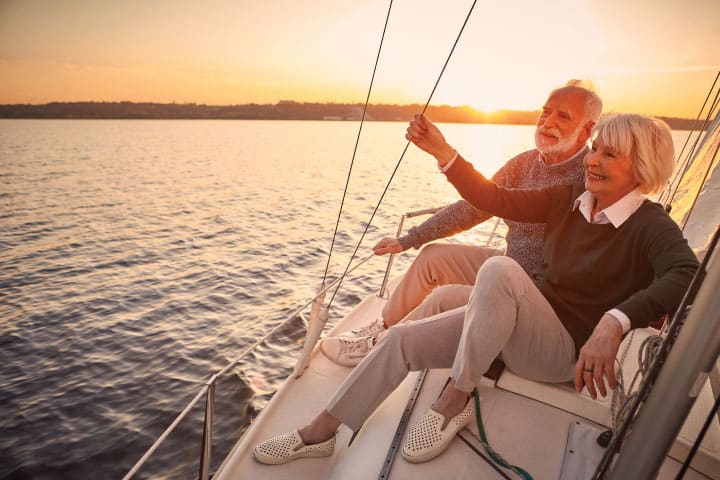 Pro tip: Rent a sailboat once for a trial run
If you're wondering if retirement on a sailboat is for you, peer-to-peer boat rental marketplaces like Boatsetter give you the opportunity to get a feel for life on the water before committing to buying a boat.
Rent a sailboat for a weekend or a week. Make sure you treat your time like you're really living on a boat! And if you feel unsure after renting keep in mind there are hundreds of sailboat makes and models for you to rent so don't give up.
About us
Boatsetter is a unique boat-sharing platform that gives everyone— whether you own a boat or you're just renting — the chance to experience life on the water. You can list a boat, book a boat, or make money as a captain.
Rent, Charter, Share— Only at Boatsetter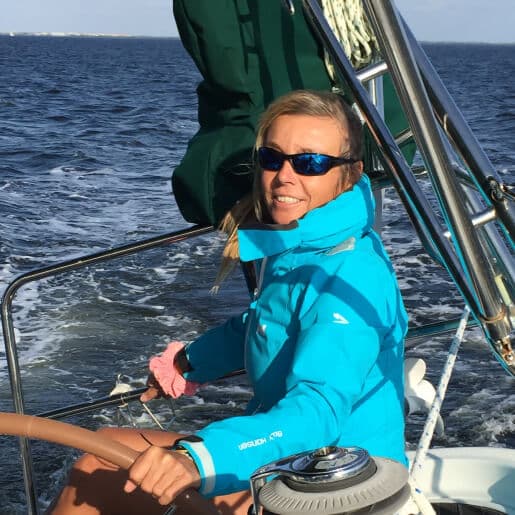 Zuzana Prochazka is an award-winning freelance journalist and photographer with regular contributions to more than a dozen sailing and powerboating magazines and online publications including Southern Boating, SEA, Latitudes & Attitudes and SAIL. She is SAIL magazines Charter Editor and the Executive Director of Boating Writers International. Zuzana serves as judge for SAIL's Best Boats awards and for Europe's Best of Boats in Berlin.
A USCG 100 Ton Master, Zuzana founded and manages a flotilla charter organization called Zescapes that takes guests adventure sailing at destinations worldwide.
Zuzana has lived in Europe, Africa and the United States and has traveled extensively in South America, the islands of the South Pacific and Mexico.